BC Fed Union Renewal Conference Focuses on Racism, Diversity
November 30, 2011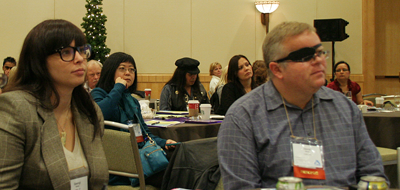 This week the BC Federation of Labour hosted delegates from unions around the province for the first union renewal conference with a focus on racism, diversity, and growing unions. Because of efforts by the BC Fed in asking participating unions to ensure diverse delegations, over 1/3 of the room was made up of union members of colour.
Between speakers, panels, and small group discussions, participants were treated to a variety of cultural presentations, starting with the kickoff Aboriginal greeting by Squamish elder William Nahanee, and including Aboriginal dance, Bhangra music, and spoken word by Wayde Compton.
BC Federation of Labour President Jim Sinclair delivered the opening speech of the conference on Monday, noting that this conference was about the future of the labour movement.
"Without [Aboriginal workers and workers of colour] we cannot become the movement we dream of," Sinclair said. "Racism and sexism and homophobia are biggest obstacles to solidarity. If we're going to be successful we need to put those things together – to reject racism, to reject sexism, to reject homophobia," he added.
Next up Karl Flecker, Anti-Racism and Human Rights Director of the Canadian Federation of Labour gave a presentation on the demographic reasons unions need to ensure diversity. Flecker used research, including a "secret" HRSDC Canada report to show that our aging population requires immigration more than ever to sustain it.
"Their pay will determine your pension payments. So we need to ask how our movement is building relationships with immigrants," Flecker argued, "They are the new workforce and will be the new union movement."
Flecker made recommendations for unions, including embracing radical structural change to make union leadership more inclusive, conducting equity audits, developing and implementing leadership development and mentoring programs, advancing representative workforce strategies at the bargaining table, speaking out on issues that matte rto equity groups, supporting outreach networks, and providing high-profile assignments for minority members.
Flecker pointed out that we can best gain strength, learn new organizing strategies, increase energy and momentum, and ensure the future of our movement by adapting to Canada's changing workforce demographics.
After a break, Jim Sinclair introduced 15-year-old Tracey Phan, the daughter of a worker who has been in a coma for three years as a result of a gas leak due to employer negligence at the A-1 mushroom farm in Langley. She gave an emotional speech about how it feels to lose your father and have the law deny you justice. Because of the lax punishment handed out to the farm owners, Phan has become a prominent spokesperson for improved worker protection and employer accountability in BC.
In the afternoon, delegates heard from Dan Smith, member of the First Nations Summit executive and UBC History professor Henry Yu.
Smith pointed out that racism is about more than individuals having discriminatory attitudes: "I want to talk about systemic barriers. Systemic barriers come from practice, practice, and then policy." Referencing history he pointed out the historical limits placed on Aboriginal people through voting restrictions, the requirements of the Indian Act, and residential schools. He reinforced that the legacy of these restrictions continues. Smith encouraged participants to "make sure you're taking care of yourself first…so you are able to look out for the safety of your brothers and sisters."
Henry Yu also spoke about the importance of remembering the history of this province, referencing the exclusionary policies that kept his Chinese mother out of the country and away from her family until she was 27.
"Canada in some sense was founded not for people who look like me or the indigenous people: it was founded in spite of those people. It was built on top of those people," Yu noted.
Yu agreed with Smith that acknowleging our society's history is necessary to opening up our movement: "You can't build collaboration and coalitions until you start dialogues and start talking to people about who they are and where they come from."
Looking at the changing workforce demographics, Yu encouraged participants to listen to the stories, dreams, and aspirations of migrant workers like temporary farmworkers and live-in caregivers. To wrap up, he also encouraged coalitions with labour and post-secondary students to share research and resources and to work together.