BC Fed Delegates Vote for a Better BC
November 28, 2012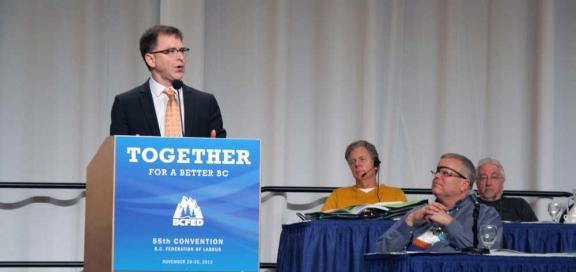 First thing Wednesday morning delegates debated and passed was an emergency resolution for the BC Fed to call for a full, open, and transparent review of the Temporary Foreign Worker Program; for a moratorium on the program until such a review is conducted; and for a comprehensive labour force strategy to address changing labour force demographics and include training provisions. The resolution also called for the Federation to work with affiliates to stop plans by China-backed coal companies to own and operate BC mines and to indenture temporary foreign workers, and for the Fed to advocate for a fair immigration system and for the rights of temporary foreign workers currently in BC.
This resolution followed the Tuesday night forum on solidarity with migrant workers, at which migrant worker advocates spoke about the shocking types of exploitation experienced by people coming through the Temporary Foreign Worker program.
Delegates at the microphones spoke passionately about making sure everyone who works in British Columbia has equal working rights.
"This is about profits over safety. This is about profits over human dignity," said one member, arguing that a fix is needed so people coming over do so as immigrants with full rights rather than temporary workers who can easily be exploited and indentured by employers, as we saw in a recent case with Tim Horton's workers in Dawson Creek.
After the resolution convention moved to the Political Action Committee report, delivered by MoveUP President David Black as Chair of the Fed's PAC.
"The BC Liberals have spent the past eleven years cutting public services, while at the same time, taking more money out of the pockets of working families through higher tuition fees, BC Hydro rates, ICBC premiums, healthcare premiums, ferry fares and the HST," said Black.
But there is reason for hope, Black continued: "Change is in the air … We all worked incredibly hard to support these two amazing candidates [in the Port Moody-Coquitlam and Chilliwack by-elections] by door-knocking, donating and phoning. Unions did member to member campaigns and political action training, and we won."
MoveUP Political Action Committee Co-Chair Korleen Carreras spoke in support of the report, specifically for its recommendation that the Federation develop regional political action training opportunities.
"I think that it's through education and training how we engage our members, give them the skills to get involved in our local constituencies … it's through education and training that we inspire our members and give them the confidence to walk in the campaign office, work to elect that New Democratic candidate, and that's how we change government in May," said Carreras.
Many NDP MLAs and provincial candidates joined the convention as guests to hear their leader, Adrian Dix, speak mid-morning.
BC Federation of Labour delegates waved bright green signs reading "We Vote: for a better BC" and gave Dix a standing ovation.
"I was elected in 2005 with a great deal of labour support and since then I've worked with many of you on the ground every day," said Dix.
"I think of MoveUP fighting to keep BC Hydro public and being at rallies with them," Dix said as one example in a list of many, which also included fights with Unite Here hotel workers, with UFCW in support of migrant workers, and with the BC Federation of Labour working to raise money for the families of the Langley injured and killed mushroom farm workers.
Dix joked about hearing radio commentators on the way to the convention, who were saying he should be "friendly" but not "embrace" the labour movement. He declared that he is proud of all the struggles he has fought with labour and is proud and honoured to receive our support.
"I assure you we will do everything we can to make it real by bringing change for the better in 2013," he stated.
Moving into the spring election, Dix emphasized the importance of getting more people out to vote, saying he thinks part of the problem is that "politics in our province has become too personal and that we need to become more positive."
"I think people should be treated with respect in politics…I think the personal attacks should be left out so we can invite more people into the process of ideas," said Dix.
Dix spoke passionately about the problems facing our province – in terms of building a strong and sustainable economy, and addressing inequality – and the need for everyone to be at the table making positive change:
"I think the labour movement should play a central role as well [as business]. I think the labour movement has a lot to contribute as well and I will respect and listen and work with the labour movement to bring change to the key issues in British Columbia," Dix added.
One issue Dix highlighted was the ongoing mismanagement at BC Hydro: "We have a government in British Columbia that has been borrowing money at BC Hydro to pay money to the government as a dividend … an issue that MoveUP has highlighted for the last number of years."
To wrap up, Dix talked about the people counting on the BC NDP to win the next election, and noted that the BC Liberals have more money and the willingness to run a negative campaign.
"Change for the better, one positive step at a time," said Dix, "That's what I ask you to join me to bring to our province. These are going to be difficult days and they are going to be fun days, but we need more involvement, we need more of you now than ever."