Andres Loo: In Search of a Living Donor
August 12, 2016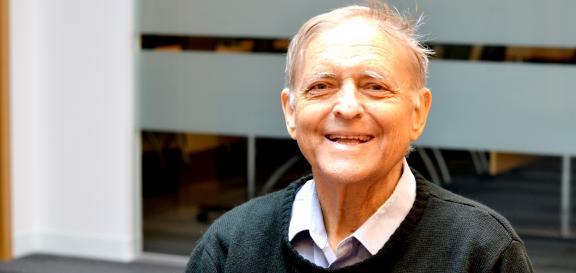 Andres Loo has a bright smile and soft voice with just the barest hint of a European accent, a gift to him by his Estonian parents and his birth country of Sweden. The 67-year-old also has polycystic kidney disease, a genetic disease which has shut down his kidneys.
Until about a month ago, Andres worked as a dispatcher and call-taker at Yellow Cabs, where he is a MoveUP member. He's now on medical leave. The busy, interactive world of taking calls, helping customers, inputting rides into the computer system, keeping track of the cabs on GPS and solving problems suited the sociable Andres well. Before being a dispatcher, he drove a cab for 11 years.
Now, his disease has left him tired and dependent on three-day-per-week dialysis treatments. Each dialysis treatment is five hours. He was going to dialysis while working for about a month, but found it too difficult. His impaired kidneys won't produce the hemoglobin, which drags his energy down. "I like to ride my bike to get around, but I've had to cut that right back," he said. He's unable to take iron supplements because that could feed a renal infection he's currently fighting.
A donated kidney is his only hope of regaining his energy and his independence.
Andres discussed his options with his doctors and they advised him to try to find a living donor. "If you get can get a kidney transplant your life expectancy is five years longer than it is if you stay on dialysis," he explained.
However, there's no guarantee of finding a matching deceased donor and many people languish on donor wait lists for several years. "They say there's a 10 per cent mortality rate on dialysis per year," said Andres. "If you get a living donor…you're able to match the kidney transplant and will have much better medical outcomes. So, life expectancy is, again, better."
Often, living donations come through family members. But Andres' mother is 95 years old and his 72-year-old sister is also unable to donate.
In July he put an appeal for a living donor out on Facebook and through email. In it, he wrote:
I need to find someone who would be willing to donate a kidney for me. What I am asking of all of you is to make as many people as possible aware of my situation in the hopes of finding someone who would chose to donate a kidney to me. It is very important that no one feel pressured or coerced into making this decision. I am aware of how serious a decision this is.
Andres also contacted MoveUP to see if his union could help spread the word about his need for a living donor.
A prospective donor might not even have to match Andres himself, thanks to a process called "domino donation". According to the Living Kidney Donors Network, a domino kidney paired exchange starts with a non-directed or altruistic donor. Instead of just one person benefiting from their donation, this donor can allow many incompatible pairs to be transplanted.
When asked what a new kidney would mean for him, Andres paused and exhaled. "It would mean I could actually carry on with my life."
————————-
If you are interested in offering a kidney or simply learning more contact Andres at looandres@hotmail.com or call the donor nurse at St Paul's Hospital at 604-806-9027 or 1- 877-922-9822. The donor nurse would be happy to mail any potential donor an information package of information about the transplant. Any contact with the donor nurse and transplant team by any potential donors will be kept strictly confidential.