African Grandmothers Call for Change
September 18, 2013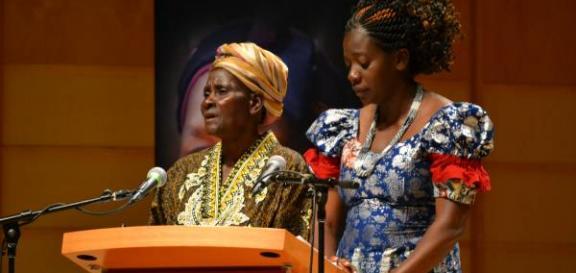 "None of us will leave this place the same," said Patsy George, moderator of the Stephen Lewis Foundation's African Grandmothers Tribunal, held in Vancouver on September 7. The purpose of the tribunal was to shine a public light on the denial of African grandmothers' human rights, and to stand with African grandmothers and their organi­zations as they issue a call for action.
The tribunal focused on personal stories delivered by African grandmothers whose own children have died of AIDS, leaving them to care for orphans. Two "expert witnesses" from African NGOs also testified. Finally, the audience heard observations and recommendations from a panel of "judges", including B.C. Representative for Children and Youth Mary Ellen Turpel-Lafond, feminist Gloria Steinem, former Botswanan Minister of Health Joy Phumaphi, and Theo Sowa, the CEO of the African Women's Development Fund.
One grandmother, Thusile Dladla from Swaziland, told the audience what that experience is like: "You lose the love you had together with your family and instead of that love you have bad memories of AIDS." Dladla is caring for six grandchildren after three of her four children died of AIDS.
"By helping them, I am planting seeds for the future," Dladla said, but added she was frustrated that the burden for care falls on so many grandmothers like her, without adequate support from governments. In Swaziland, there are grants available for some grandparents caring for orphans, but you must be 60 to qualify. Sadly, many are much younger.
Mama "F" from Zimbabwe was not able to attend in person but told her story through a proxy. In 1992 Mama "F" found out she was HIV-positive.
"I thought about my son, who was two-and-a-half then," she said, "I kept saying to myself, 'I will stand up, I will be strong.'"
When she told her husband, an alcoholic, he refused to get tested himself. He shouted at her and the next day she got a letter saying he had filed for divorce. The divorce law in Zimbabwe has a three-year waiting period to try to force the couple to reconcile. During that time, Mama "F" said, "he would come back and…beat me up."
Her husband stole her HIV results and produced them in the court case, trying to get the right to take the house and children from her. But the judge ordered him to move out and let her stay in the house with his kids. Unfortunately, he soon lost his job and came back to the house.
"Getting him to leave now has been a big problem," she said. Although she went to the Zimbabwe Women Lawyers Association and got help getting a protection order, her husband drinks with the local police so it's difficult getting them to enforce the order.
Mama "F"'s daughter died of meningitis and she lost her brother to suicide. She is now caring their four children and her son. Lack of money makes it hard to get medical care or to feed the children she's caring for. To go to the hospital she has to walk three hours each way, with the potential of long lines on arriving.
However, she discovered an organization called Chiedza, which taught her skills and helped pay for the kids to go to school.
"I was at the end of the road…I was thinking of suicide," she said, "But Chiedza saved my life."
As Stephen Lewis said in his introduction to the program, "At the root of all this lies gender inequality…Until we break gender inequality we will never break the pandemic."
No two grandmothers had the exact same story. One woman from Uganda told about dealing with her male in-laws attempting to forcibly take her land after her husband died. Another grandmother from rural Kenya, Margaret Ongwen (pictured above), had challenged her community's tradition of "wife inheritance". When her husband died she was expected to let herself be inherited by one of his male relatives, but she refused. When her co-wives all died soon after, she was left with six orphans plus her own children and grandchildren. Community members told her if she was not inherited her children would die, but it is now ten years later and they have all survived.
"Everyone is marveling in the village," she said proudly.
But there were also common threads the grandmothers talked about: the experience of ignorance and stigma being directed at their families, the pain of losing their children, frustration at the lack of access to HIV/AIDS treatment. Remarkably, they also shared a sense of empowerment and pride for having cared successfully for many orphans (one woman and her husband were caring for 24 children from both sides of their family), helping other grandmothers in similar situations, and making change in their communities and globally.
For example, in addition to her volunteer work feeding orphans from her home, Dladla is working with others to lobby the Swaziland government to change the pension laws to better support them:
"We grandmothers are talking to our MPs, letting them know if they want our vote, they must change the law."
Mama "F" now volunteers with Chiedza, doing counseling and working as a paralegal with battered women.
"I always tell people they must know their rights. They mustn't be quiet," she said, "I will step in if something is wrong."
The judges thanked the grandmothers for stepping up and making such a tremendous difference in their communities. They also strongly condemned the situation.
"What it reflects is a really pernicious intersection between HIV/AIDS and discrimination against women," said Theo Sowa. She pointed out that many African countries have enshrined legal rights for women, but that does very little when the rights are not enforced and women have little knowledge of them.
Sowa said we need to support on-the-ground organizations working specifically with women, and grandmothers in particular. She said that out of $15 billion in UNAIDS money spent in Africa last year, only $20 million was actually spent on programs targeted at women.
Mary Ellen Turpel-Lafond asked us to consider the human rights context. Of all the accords endorsed worldwide, she said, "Nowhere is it once asserted that it is the grandmothers of the world who have the responsibility to deliver the rights to the people." In addition, grandmothers' own human rights are violated because they face poverty, homelessness and lack of access to medical care.
"We must be clear that failure to remunerate caregiving work…is actually a form of structural discrimination against women," Turpel-Lafond added. She said grandmothers need to have access to state pensions or at least cash transfers at a reasonable age, and that tuition costs and school fees must be abolished.
Joy Phumaphi added that we need better data, disaggregated so we can tell who's not receiving treatment and why. She also drew attention to a major problem that she sees: women like grandmothers being de-prioritized for treatment because they are unlikely to spread the disease.
"We must continuously insist on the human rights…to HIV/AIDS treatment for each and every member of our community," Phumaphi concluded.
Finally, Gloria Steinem looked at the issue through a wider lens of global gender inequality. She highlighted the way the grandmothers had talked about their home and family lives:
"There is a major difference in power between males and females…If we do not have democratic homes we will never have a democratic society."
To end the day, Stephen Lewis Foundation co-founder Ilana Landsberg-Lewis took the stage along with the grandmothers to call for action.
"We, the grandmothers of Africa, speak to you now as the guardians of the future," said Zodwa Hilda Ndlovu of South Africa, "It is time. We shall overcome."
MoveUP joined with other B.C. unions to support this unique and extremely important event.
President David Black said, "It was one of the most moving events I'll probably ever attend. The stories really stay with you. I hope the grandmothers' courage will help continue to build support for their movement to help make the urgent legal and cultural reforms that are needed."