Advances and Setbacks in Health and Safety in Past 3 Years
November 15, 2012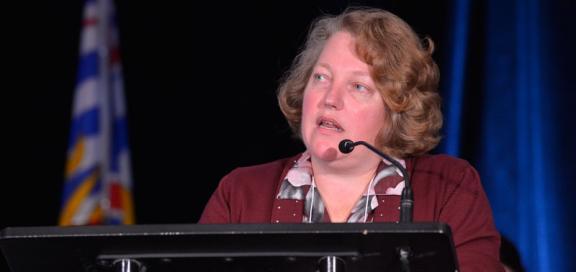 MoveUP's Health and Safety Committee gave the first report of the afternoon. Chair Gwenne Farrel started off by noting the advances, but also the setbacks, experienced in the area of health and safety in the past 3 years.
The first case Farrell highlighted was the action after the death of gas station attendant Grant De Patie in gas-and-dash incident. After De Patie's death, the labour movement rallied to get better protection for late-night retail workers, but recently those changes were watered down significantly.
Farrell explained: "Employee lobby groups have applied significant pressure to the government…you look at places like private liquor stores, convenience stores like Mac's, 7-11. To them, it was too expensive for them to ensure their workers were safe…To me, that's appalling."
Another health and safety related headline we saw since the last convention was the tragic death of three mushroom farmers and injury of two more after a gas leak at their workplace in Langley. Pressure from labour forced a coroner's inquest on that incident. The coroner made recommendations for significant improvements, including enhanced education for current and new agricultural workers, managers, and owners, as well as stricter standards for the farming facilities to prevent accidents.
The challenge with fixing the problem is that the provincial government has de-prioritized WorkSafeBC. Farrell noted: "WCB has been so significantly eroded. One of the things the coroner's report actually found was that part of the cause was…they couldn't get the inspectors out there, and that's after receiving numerous complaints from the neighbours."
On the positive side, Farrell announced that the government had introduced Bill 14 aimed at compensating mental disorders in the workplace:
"Previously under WCB you could only receive compensation if there was a traumatic incident that occurred to trigger a mental disorder or stress-related illness…We have a lot of issues with how their process is being set up and who needs to certify that there is a mental illness. However, it is a step in the right direction."
In addition, WCB is looking at adding new guidelines to deal with domestic violence where an intimate partner who is abusive comes into the workplace or is a coworker of their abuse victim.
To conclude, Gwenne Farrell thanked the people in the labour movement who have worked on these issues in the past three years, including those active in calling for the owner's accountability in the mushroom farm deaths, and "a lot of the young workers in BC who were so active in establishing Grant's Law and protections against working alone."