A Labour Day Message from MoveUP President David Black
August 31, 2012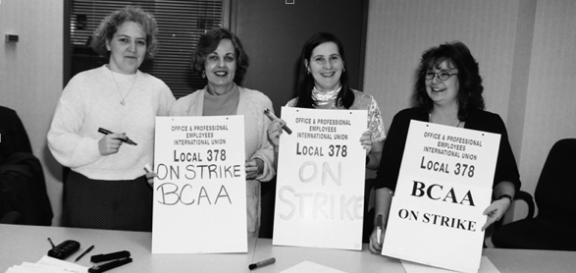 This long weekend is a chance for many of us to catch up on errands, get our kids ready for school and enjoy the sun. We all have a lot on our plate and this extra time is important to ensure balance in our lives, but it's also important to remember that Monday's Statutory Holiday, Labour Day, is there for a reason that's still relevant today.
Canada's Labour Day was first officially proclaimed in 1894 and since that time working people have been through many struggles and made many gains. We've won higher minimum wages, an eight-hour week, parental leave, better pensions, workers compensation programs, and improved workplace safety, not to mention universal health care.
When looking at MoveUP's history specifically it's remarkable how far we've come. The early workers at BC Electric (BC Hydro's forerunner) fought for over fifteen years before in 1958 they won paid sick-leave, moving allowances, layoff notice, and three weeks paid vacation after eight years. It took over two decades more before MoveUP members at BC Hydro got the corporation to eliminate the "female differential" separate wage scale for women workers.
ICBC members went on strike for their first collective agreement in 1975 and their sacrifice and tenacity won them a 40 percent wage increase over two years and a 35-hour, 4-day work week.
Transit workers, who at the time were all under a single provincial employer, struggled long and hard to achieve pay equity with mostly-male bus drivers—that victory came in 1998.
In 2000 after an extended strike, BCAA Service Centre employees were able to return to work having negotiated layoff and recall rights by seniority, harassment protection, a sick leave plan for part-time employees, and wage increases of up to 18.5 percent.
These are just a few of the many battles you've fought and won. But we must remain ever vigilant to ensure we keep moving forward, not backwards.
Workers at FortisBC Inc. will soon be taking a strike vote after the employer proposed a package of concessions including mean-spirited attacks on employee and retiree benefits.
UBC Alma Mater Society Security workers have been fighting for months against blatant wage discrimination and threats on their job security.
BC Hydro is refusing to tell our members the full details of their bargaining proposals but they potentially put the entire collective agreement on the table for concessions, including employee pensions.
And ICBC members are beginning strike action at select locations next Wednesday after being without a contract or a wage increase for over two years.
Labour Day is a timely reminder of why we fight, why we continue to hold the line against employers who would otherwise erode our hard-won gains, and what we can achieve when we work together. Our work is a fundamental part of our daily lives. It has value for our families, our communities, and society as a whole. Our service and often sacrifices make a difference and must be recognized.
Each gain you make at the bargaining table make it just a little bit easier – for you to do your work safely and productively and to make ends meet. Studies have also shown our gains have a ripple effect to non-union workers, helping to make our society a bit more equal.
And that's a reason to celebrate.