2021 MoveUP Convention – Day 1 recap
October 28, 2021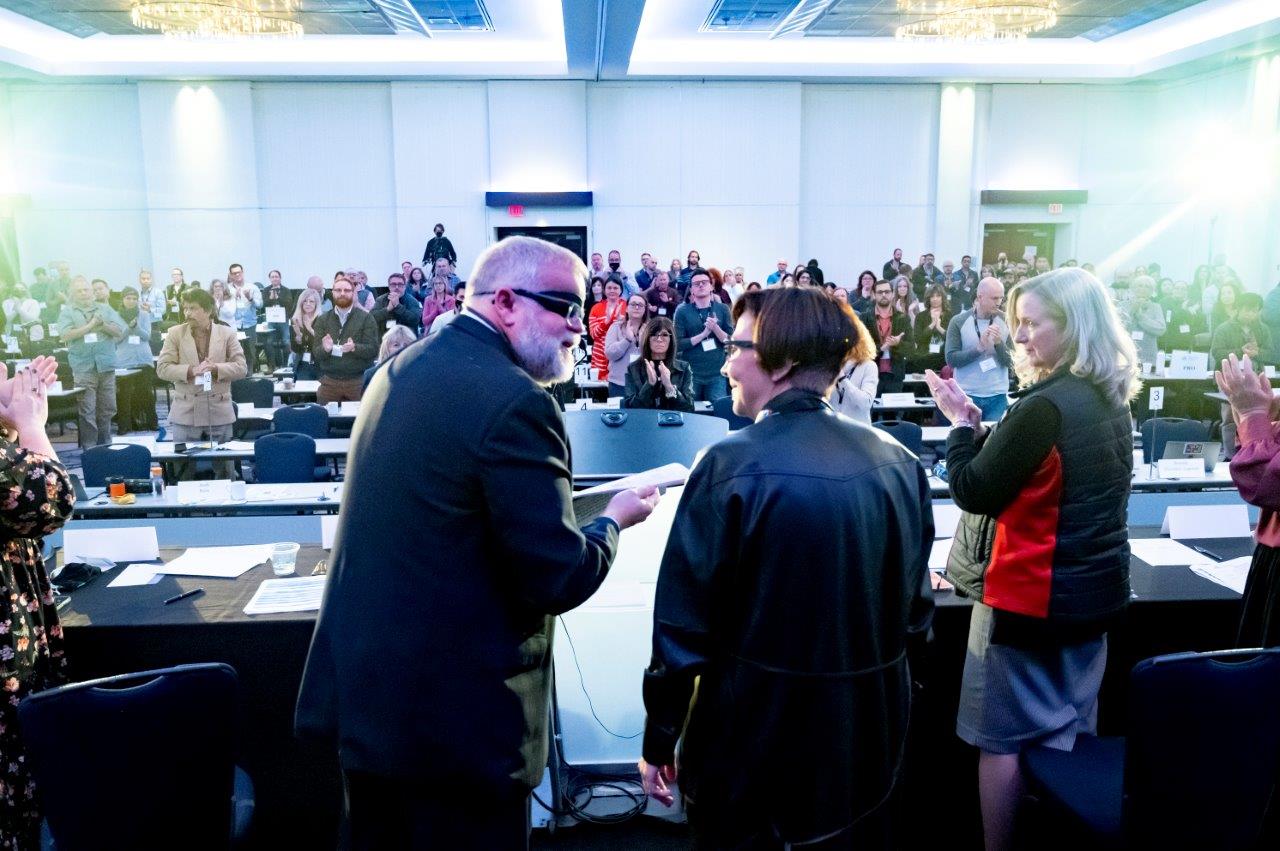 The opening day of the 2021 MoveUP Convention was a surreal scene, with familiar and new faces from across our union all together again in-person for the first time in a long time.
Although it has been three years since our last Convention, in the context of the global pandemic it has certainly felt even longer given few have had the opportunity to gather in-person.
It was a day of reflection, of celebration, but also of contemplation. An opportunity to look back on the last three years, an opportunity to review where we have come from, and an opportunity to discuss where we still need to go as a union.
President's Address
That was certainly the theme of the President's Address delivered by MoveUP President David Black, who thanked delegates for returning him to the position he has held since 2011 but indicated he believed that just because members have approved of the job he has done, it does not mean they are not interested in progress and change.
David's speech discussed current issues including reconciliation, the push to improve workers' rights, political activism, as well as explained the theme behind this year's Convention – Breaking Barriers, Embracing Diversity – and how it shows what our union still needs to strive for needs to go despite many of the positive achievements we have had over the last three years.
David Black's speech can be viewed here.
Dr. Cindy Blackstock – Keynote speech
Dr. Cindy Blackstock, a member of the Gitksan First Nation with nearly three decades of social work experience in child protection and Indigenous children's rights, delivered a stirring keynote speech talking about Canada's sordid history of purposely choosing not to save Indigenous children's lives and now trying to cover it up by calling it as a failure of policy.
She told the story of Dr. Peter Henderson Bryce, whose 1907 Report on the Indian Schools of Manitoba and the Northwest Territories showed the staggering death rates at Indian Residential Schools but attempts were made to hide his findings.
Dr. Blackstock lamented on how Canadians over the years have known about the injustices that have occurred at residential schools but, because the truth was so confrontational to their vision of Canada, that they had to turn look away. As a result, governments were allowed to get away with continuing the injustices.
Finally, she challenged delegates to stand with the morally courageous and to push governments to end racial discrimination and to actually act, rather than just plan to plan. Her closing words were, "when the kids win, the country wins too."
Dr. Blackstock's speech can be viewed here.
Mayor Stewart – City of Vancouver
Vancouver Mayor Kennedy Stewart delivered greetings to delegates thanking MoveUP members for continuing to be a driving force and putting pressure on politicians to do a better job. He also talked about the priorities for him with the City of Vancouver as mayor, focusing on working people, tackling issues including affordable housing, child care, climate change, reconciliation, anti-racism, and COVID recovery.
Mayor Stewart's speech can be viewed here.
Finance Report – Lori Mayhew
MoveUP Secretary-Treasurer Lori Mayhew delivered the financial report, updating delegates on the status of our union's finances. She noted that the union was relatively unscathed by the economic impact of the COVID-19 pandemic with the majority of MoveUP members able to continue to work.
Lori also discussed a resolution that is expected to change how MoveUP's defence fund is funded – a change that would allow the fund to remain healthy and at stable levels without affecting our union's operational funds.
The resolution (C1) would later be passed by the delegates.
The Finance Report can be viewed here.
COPE-SEPB National Secretary-Treasurer Pierrick Choinière-Lapointe
COPE-SEPB National Secretary-Treasurer Pierrick Choinière-Lapointe also delivered a greeting to the delegates on the opening day of Convention giving an overview of the work that is happening at SEPB-Quebec. He mentioned the consultation work that SEPB-Quebec had recently done with all their locals and among the actions taken since included making a communications staff person permanent, having a dedicated staff member responsible for mobilization, measures to address equity-seeking groups, and addressing the climate crisis.
Pierrick Choinière-Lapointe's speech can be viewed here.
Canada's NDP Leader Jagmeet Singh
Canada's NDP leader Jagmeet Singh provided a video message for delegates thanking MoveUP members for the work they do in the labour movement and in their communities. He talked about the importance of getting people through the pandemic, emphasizing the importance of making sure we support getting people vaccinated, as well as getting needed investments in healthcare and prioritizing working people. Jagmeet also thanked delegates for their support of the NDP in this past federal election, helping the party secure additional seats in BC.
Jagmeet Singh's address can be viewed here.
COPE-SEPB National Report – Annette Toth
MoveUP Vice-President Annette Toth, who is also Vice-President of Region 4 for COPE-SEPB, provided a report on our national union which included an overview of its financial status and noted their financial support of the Driving Public campaign which we undertook this past term.
She also noted the need to examine the structure of our national union, and the balance between autonomy and the need also have diversity and inclusion.
Delegates also received reports from the Communications Department, the Organizing Department, the Executive Council, the Audit Committee, the Constitution & Bylaws Committee, the Health & Safety Committee, the Events & Social Planning Committee, and the Human Rights & Multicultural Committee.
Resolutions
Debating on resolutions, the most engaging part of any convention, also got underway on day one. A number of resolutions were debated and voted on.
The following resolutions were passed at Convention on Day 1:
R6 – Public Sector Compensation
R5 – First Nations Bursary
W3 – Remote and Northern Community Access to Safe Transportation
W2 – Improved Cell Coverage
C24 – Constitution 9.9 – Assessments
C25 – Constitution 12.3 – Convention – Eligibility and Representation
HR1 – Unmarked Graves
HR2 – Ending Femicide
C1 – Constitution 9.10 – Defence Fund
To see the full text of all resolutions, click here.
Delegates who belong to our union's Utilities component also received formal election procedures for the vice-president election that will take place on the morning of the final day of Convention. Two candidates are running for the position of vice-president of utilities: Incumbent VP Rysa Kronebusch, and Anderson Charles.
The election will take place on the final morning of Convention on Saturday, October 30.
Day 2 of Convention will feature a video greeting from BC Premier John Horgan, as well as speeches from a host of other labour leaders including: Stephen Von Sychowski, president of the Vancouver & District Labour Council; Bea Bruske, the newly-elected president of the Canadian Labour Congress; and Laird Cronk, president of the BC Federation of Labour.
Visit our 2021 Convention page for more information.