2016 BC Federation of Labour Convention – Day 1
November 28, 2016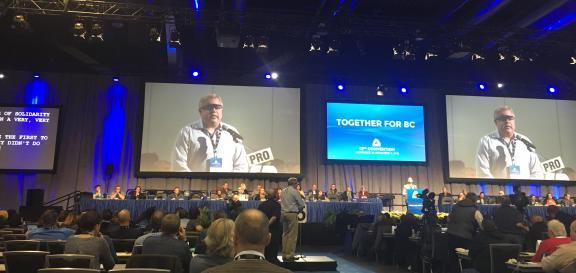 The 2016 BC Federation of Labour Convention opened Monday morning, welcoming 944 delegates from unions across British Columbia. MoveUP delegates were energized to be a part of this gathering of passionate advocates for union and community strength.
New Westminster mayor and MoveUP member Jonathan Coté welcomed delegates. He spoke of the achievements on New Westminster in becoming the first city in Canada to be a living wage employer and encouraged delegates to take the steps to make the real changes they wanted to see in their communities in the coming year.
BC Fed Secretary Treasurer Aaron Eckman led delegates in a moment of silence for work-related injuries, deaths and disease. He told delegates, "we need to take action now to renew our fight for the living" when it comes to workplace safety.
BC Fed President Irene Lanzinger addressed delegates on a variety of issues – from the call for a $15 minimum wage, to the increasing poverty gap in BC, to worker safety, to being the first woman president of the BC Fed. She highlighted how Christy BC Liberals are failing families and communities, and how important it is that we go out there and bring change on May 9, 2017. Lanzinger also commended our members at the BCNU for their strength and solidarity on the picket line and congratulated them on their agreement.
MoveUP President David Black spoke about the strength of our members on the line at BCNU and thanked affiliates for their help and solidarity during the strike. He gave special recognition to our members' colleagues at the BCNU with Unifor 888 who stood with us to the end. Some of these members joined the convention in the visitor's gallery.
In the afternoon, delegates heard from a range of speakers: Erie Maestro, on support for migrant workers, members of the community and social action committee talking about the "Protein for People" campaign, and Donald LaFleur, Vice-President of the Canadian Labour Congress.
A number of resolutions were passed unanimously: on protecting home support, on supporting public education, and on getting rid of MSP Premiums.
The Women's Rights Committee presented their support with MoveUP board member Rysa Kronenbusch speaking passionately about violence against women, "Domestic abuse is not just a women's issue, it's a societal issue."
Monday concluded with the Joy Langan Social Justice Award being given to Michelle Laurie of United Steelworkers.