1,300 ICBC Workers Walk the Picket Line
October 4, 2012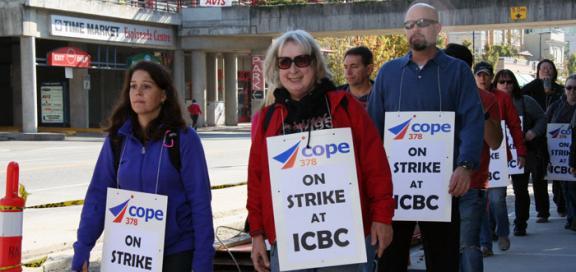 Approximately one third of MoveUP members at ICBC walked picket lines yesterday after little progress was made in bargaining in September.
"Our bargaining team met with the employer again and ICBC said they're still not willing to budge on wages," said President David Black, "Their proposals put our members far behind the rising cost of living, which is difficult to swallow when they're making so much profit they're giving $1.2 billion to the provincial government."
Black also noted ICBC employees have been asking for an investigation into workload issues for a long time: "The employer's current proposal on that issue wouldn't even take effect during the next two years and that's just not acceptable," he added.
Most of the members who were on strike had not been part of the two previous strike days. The biggest change was that this was the first time the approximately 1,000 members at ICBC head office in North Vancouver had been off the job.
"The mood here is good today," said MoveUP Vice President Jeff Gillies, who was out at the North Vancouver picket line, "There's lots of cars going by honking their horns and that kind of support is really encouraging." Gillies was also buoyed by the media coverage in North Van, which included Fairchild TV, the Province, and The Globe and Mail.
Several smaller sites throughout the Lower Mainland, as well as locations in Kamloops and Victoria were also out for the day. Picket captains did interviews with CFJC Kamloops TV as well as A News and CHEK News on the Island.