LTD Trust Insured Plan
May 11, 2021 @ 6:30 pm

-

8:00 pm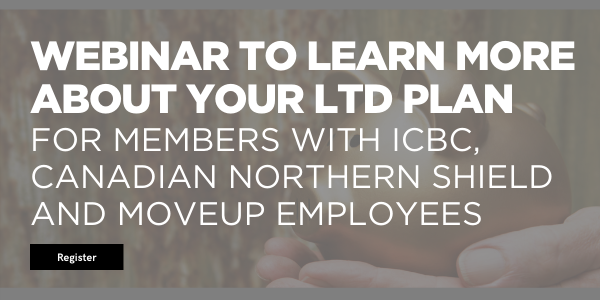 This session is for ICBC, Canadian Northern Shield and MoveUP employees

No one plans to become ill or get injured for extended periods of time. However, if we find ourselves in that unfortunate and often terrifying situation, it is good to know that we have a long term disability plan to see us through. But what does that actually mean? Who is covered by this plan? How much does our plan pay and for how long? What happens to us if we are unable to work for the rest of our lives? What happens when we get better and can return to work? Is there help or support? Is our plan financially healthy?
Our LTD plan trustees and administrator will answer these and many more questions at the LTD Plan webinar.
May 11, 6:30 p.m. – 8 p.m.