Bulletin
TRIENNIAL EXECUTIVE COUNCILLOR ELECTIONS-NOMINATION RESULTS
---
March 25, 2020
To: All MoveUP Members
---
DISTRIBUTORS PLEASE POST and/or CIRCULATE

Nominations for the 2020 triennial MoveUP executive councillor elections closed at 4:30 p.m. on Friday, March 20, 2020. The full list of acclaimed, contested, and vacant positions for all council areas can be found here or by visiting moveuptogether.ca/election2020.
MoveUP congratulates the executive councillors who were acclaimed and will now serve in this position for the next three years, term ending April 30, 2023.
EXECUTIVE COUNCILLOR ELECTIONS GOING TO A VOTE
Contested nominations will now go to a vote by electronic ballot.
The electronic voting website goes live on Monday, April 6 at 8:30 a.m. You can cast your vote by logging onto the Member Portal anytime from that date until the deadline, which is 4:30 p.m. Tuesday, April 28, 2020.
The following is a list of candidates by executive councillor area that are up for election: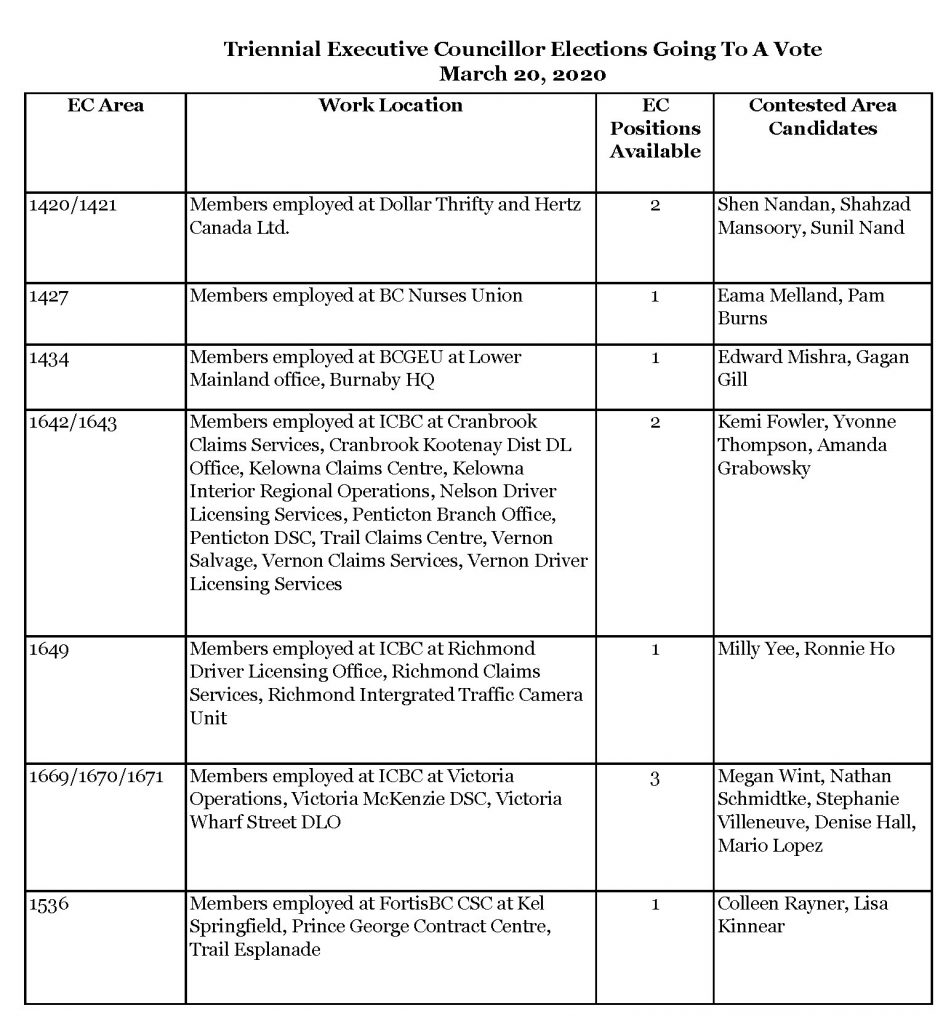 To view candidate bios and or photos, if provided, visit the MoveUP election website moveuptogether.ca/election2020.
HOW TO VOTE
In order to vote electronically, you must have logged onto the MoveUP Member Portal and pre-registered with your membership ID (see February 4, 2020 bulletin attached here) and a personal email address. If you have recently changed office locations, please ensure that the union office has been advised as your ballot will include candidates from the last known work address.
To vote you log onto the Member Portal with your password where you will be directed to your executive councillor area. Here is where you cast your vote. Your password log-in ensures a safe and secure voting process.
If you have not already registered and know your membership ID, you can log onto the Member Portal any time before the deadline to vote. If you have questions or you do not know what your membership ID number is, contact our membership department staff at membership@moveuptogether.ca.
VOTING DEADLINE: Voting will end at 4:30 p.m. Tuesday, April 28, 2020.
VACANT POSITIONS
Shortly after the balloting closes, we will re-post for the vacant councillor positions.
In Solidarity,
Andii Stephens
Interim Returning Officer
---
File Number: 20-MOVEUP-ELEC-EC-TRIENNIAL-TRIENNIAL EXECUTIVE COUNCILLOR ELECTIONS-NOMINATION RESULTS-Mar-25
Union Label: jb:usw2009
---