Social Event
REMINDER – MoveUP's Events & Social Planning Committee present the "Ingredient of the Month" Recipe Contest – MAY
---
May 20, 2021
To All MoveUP members
---
A reminder to please send us your favourite garlic recipes!
MoveUP's Events and Social Planning Committee wish you and your family a wonderful and safe long weekend.
If you find yourself in the kitchen cooking with garlic – please send in your recipe.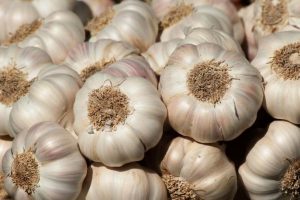 MoveUP's Events and Social Planning Committee invite you to participate in a monthly ingredient recipe challenge.  Share your cooking talents and savory skills.  Every month we will be sending out a bulletin with that month's "ingredient" – please send us your recipes and we will post them.  Submit as many recipes as you want! We will be handing out periodic prizes throughout the contest period. Each recipe is an entry!  We will be working towards putting together a recipe book next year with all the tasty entries.
May's ingredient is Garlic! Send us your best garlic recipes.  Feel free to send photos also.
Please enter here.
We are very excited about this project and look forward to having a different ingredient each month to enjoy tasting.
Some future months include Berries, BBQ sauce and marinades, lentils and more.
Please reach out if you have any questions  kprinz@moveuptogether.ca
Let's get cooking!!!
Annette Toth
Chair of the Events and Social Planning Committee
---
File Number: 21-E+SP-BLTN-Recipe - Ingredient of the month - REMINDER - May- 20
Union Label: kp:USW2009
---