Accessing and Updating Info on the Member Portal
The MoveUP Member Portal enables you to access the information you need from your union.
The Member Portal, which is securely protected by unique individual passwords, allows you to:
Verify the contact information we have on file for you and update your information
Check on the status of any active personal grievances
Check on the status of any workplace-wide grievances (also known as policy grievances)
Find sensitive communication pieces or tools that should not be shared on the public website
Vote in electronic elections on occasion
How to access the Member Portal
To access the Member Portal, you will need your Member ID and email address to authenticate your first time registration. Each MoveUP member has a unique identification number assigned only to them. This Member ID number is printed on your member card, which was sent to you by email within two months of you starting work or when you became a MoveUP member.
See below for a sample of the card. Your member number is in the middle section.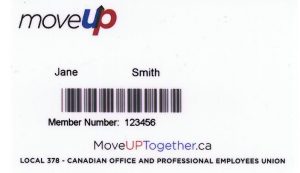 If you have lost or misplaced your member card, please contact the Membership Services Department at the MoveUP office at 604-299-0378 or 1-800-665-6838. A replacement card will be sent to you in the mail.
First-time users
To access the Member Portal, click on the link that appears at the top right corner of the website.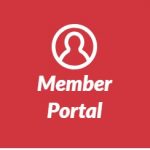 Click on the red "Sign Up Now" button that appears under the words "First Time Here?"

Fill out all the fields, starting with Member ID. Your Member ID is the number found on your member card.
Choose a username and password. When choosing a username, consider something easy for you to remember such as your email address.
If the information you entered matches the information that MoveUP has on file for you, you will be registered.
Once you have filled out and submitted your information, you should now be in the Member Portal. On the left hand side, you will see your information, which you can change or update at any time.
If you cannot register, please contact the Membership Services Department at the MoveUP office at 604-299-0378 or 1-800-665-6838 and verify that our information matches the information that you are using to register.
Returning Users
To login after you have already registered, simply follow the Member Portal link and enter the username and password you registered with.
If you have forgotten your username or your password, you can follow the links to reset your login information.
Keep Updated
Please ensure your information on the Member Portal is as current as possible. We encourage you to login often in order to keep informed about union updates at your workplace and to update your information as needed.