Bulletin
What the BC Government Budget Means to You
---
April 20, 2021
To: MoveUP Members
---
A message from David Black, President of MoveUP
Earlier today, the BC NDP government released this year's budget. As an advocate for you, we are keenly interested in how the government's budget supports and impacts you and your family.
BC's Minister of Finance, Selina Robinson, released the budget today and the government has continued their support for protecting people's health and livelihoods through the pandemic. But also, this budget is about moving BC forward as we recover after the pandemic. This year's budget is making a significant investment in services, infrastructure, and opportunities to support a strong recovery and a brighter future for everyone.
We continue to call upon the federal government to bring in a nation-wide sick leave program so that nobody has to go to work sick. I am proud that the BC government announced yesterday that there will be paid time for workers to get their COVID-19 vaccine. Some of our members will note in the budget the government's commitments to supporting staff at ICBC and BC Transit, a planned pay increase for early childhood educators, as well as a hint dropped today of a potential reopening of casinos as early as June.
Here are some of the highlights of this year's budget that will support you at work and also in your community. Following that is a more detailed summary of the key investments that the government is making. To learn more about this year's budget, I encourage you to visit the BC Government news site.
Top-level highlights:
Investments in heath care are being made to respond to COVID-19, but also reduce surgery wait times, make the largest investment in the province's history in mental health and addiction services, and address systemic racism in health care.
Making life more affordable for British Columbians including fulfilling the campaign promise of free public transportation for children 12-and-under, increasing income assistance and disability assistance, and doubling the number of available $10-a-day child care spaces.
Creating jobs and boosting the economy. They are making record capital investments that are expected to create over 85,000 jobs over the next three years, as well as continuing the recovery grants for small- and medium-sized businesses.
Investments in protecting the environment through expanding programs for energy efficiency and reducing emissions, as well as introducing a PST exemption for electric bikes.
Bridging the digital divide by investing in high-speed internet and cellular coverage for rural and remote communities, including Indigenous communities.
Detailed highlights
The BC NDP government is promising:
Improving health care

Keeping people safe during the pandemic with $900 million in new funding for testing, contact tracing, personal protective equipment, and the largest vaccine rollout in BC's history.
Reducing surgery wait times and shorter wait times with $495 million to increase capacity in diagnostic imaging and surgery.
The largest investment in mental health and addictions services in our province's history with $500 million over three years. This includes:

Support for youth—more mental health supports in schools.
Quadrupling the number of integrated child and youth support teams to provide community-based mental health and substance use services.
Accelerating and expanding programs—with an even stronger response to the overdose crisis including 195 new substance use treatment and recovery beds.

Addressing systemic racism in health care including $45 million to support culturally safe health services and more Indigenous liaisons in each regional health authority.
Building more hospitals and urgent primary care centres with $7.8 billion in capital investments.
To make life more affordable

Free public transportation for children 12 and under-saving families up to $672 a year per child.
Changes to ICBC that will cut car insurance rates by 20%.
Doubling the number of $10-a-day child care spaces including 75 more child care centres in BC. Over 35,000 BC families now have access to low-cost childcare.
Doubling the wage enhancement for early childhood educators (ECE) to $4 an hour benefitting approx. 11,000 ECEs.
Creating 400 more spaces through the Aboriginal Head Start program that provides culturally relevant child care for Indigenous families
Doubling the Seniors Supplement that helps up to 80,000 low-income seniors.
A 53% increase to income assistance and disability assistance rates since 2017. A $175 a month increase to income and disability assistance rates builds on two previous increases for a total increase of $325 a month since 2017.
Adding 100 new campsites throughout the province.
Maintaining 3,000 temporary emergency shelters.
Creation of nearly 9,000 homes for middle-income households and families through a new $2-billion investment in the HousingHub.
Creating Jobs and Supporting the Economy

Budget 2021 provides a record $26.4 billion in capital investments that are expected to create over 85,000 jobs over the three-year plan.
Supporting 14,000 restaurants, bars, breweries, wineries, gyms and fitness centres with more than $50 million through Circuit Breaker Business Recovery Grants to help businesses recover from the pandemic.
A temporary cap on fees charged to restaurants by food delivery companies to 15%.
Hiring hundreds of tourism and hospitality staff laid off through the pandemic to support BC's immunization plan as non-clinical staff.
$10 million to expand the Grow BC, Feed BC, Buy BC strategy to strengthen and expand the domestic market for BC products.
Supporting businesses to help recover jobs lost in the pandemic and create new jobs.

$44 million for Launch Online grants to help build or expand online stores and provide digital marketing training.
$195 million in funding to continue the Small- and Medium-sized Business Recovery Grant program.
$500 million in financing over three years for the InBC strategic investment fund, which will help promising BC firms scale up and keep jobs here at home.
$150 million for the StrongerBC Increased Employment Incentive tax credit.
$35 million to help BC farmers keep the temporary foreign workers supporting BC's crop harvesting safe from COVID-19.
Protecting the environment

Increased funding for energy efficiency in buildings, better city planning, and the reduction of diesel-use in remote and Indigenous communities by investing an additional $506 million.
$10 million to further develop policy on reducing the carbon intensity of fuel and developing the hydrogen economy here in BC.
$96 million for the CleanBC Program for Industry to reduce emissions, further expand BC's clean tech sector and support global competitiveness in the clean economy and $60 million to support cleantech investments with the federal government.
$18 million to support active transportation infrastructures like multi-use pathways, sidewalks and bike lanes.
$94 million in the Go Electric program: rebates to buy zero-emissions vehicles, charging stations and supports the commercialization of heavy-duty vehicles.
A PST exemption on electric bikes that will save British Columbians an estimated $7 million annually.
Improving waste management for plastics.
Helping British Columbians bridge the digital divide

$40 million investment to provide high-speed internet and cellular coverage for more rural and remote communities, including Indigenous communities.
Building on the progress made to bring better internet to thousands of households around the province.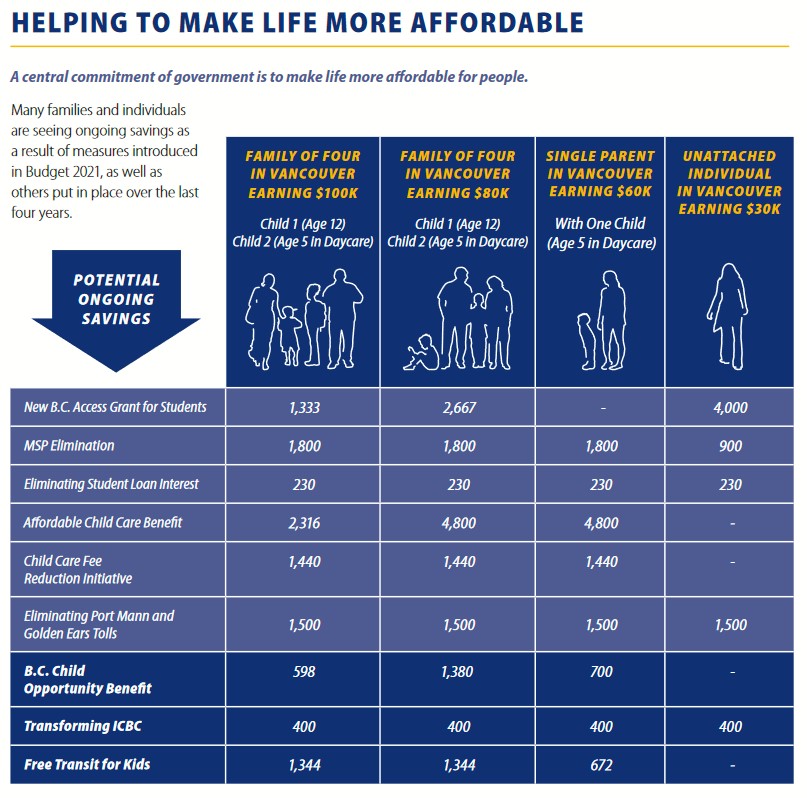 ---
File Number: 21-MOVEUP-COMM-BLTN-BC Budget April 20
Union Label: mm:usw2009
---