Bulletin
Support UNBC Faculty Association Members this Saturday, November 16
---
November 15, 2019
To: All MoveUP Members in Prince George
---
MoveUP is encouraging our members in Prince George to join fellow union members from the UNBC Faculty Association this Saturday, November 16 for a rally in support of the workers who are on strike and fighting for a fair contract at UNBC.
The event run from noon to 12:45 p.m. at the Mr. PG Landmark (2800 Upland St.) and will feature speeches from students and faculty members. Please see the poster below for more details.
Thank you for your support, and for standing together with fellow workers.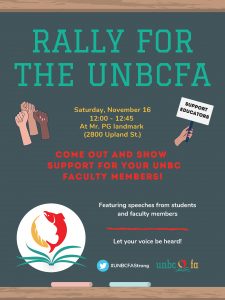 In solidarity,
Lori Mayhew
Secretary-Treasurer, MoveUP
---
File Number: 19-MOVEUP-COMM-BLTN- PG Rally Nov 15
Union Label: mm:usw2009
---