Bulletin
Paddle with the MoveUP Team at the 2019 Dragon Boat Festival
---
March 25, 2019
To: All MoveUP members in the lower mainland
---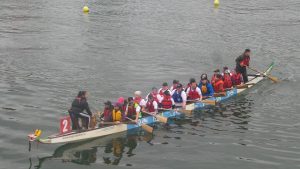 The MoveUP Human Rights and Multicultural Committee has registered a team and we hope you will join us.  The 2019 Concord Pacific Vancouver Dragon Boat Festival will be held from June 21 to 23, 2019 at False Creek.
Dragon boating has a long history and is believed to have been started to commemorate the life and death of Qu Yuan, a famous Chinese poet, minister and scholar who lived during the Warring States period in Ancient China.
More than 200 teams including many from other countries compete during this three-day festival.
Prior dragon boating experience is not required. You will be provided with a life jacket and paddle.
The cost of registration is $50.
The fee will be refunded in full as long as you sign in and attend three of the four practice sessions as well as sign in and paddle in all of the team races over the festival weekend.
Practices will take place on weekdays between April and June at False Creek. The schedule is not yet available but expect the start time to be around 6:00 p.m.
Festival Date: June 21 – 23, 2019
Location: Creekside Community Center, False Creek, Vancouver
How to register:
If you are interested in joining this year's team just click on this link and complete the requested registration details.
As a registered team member, you have access to the festival grounds – great food and lots of fun!
Deadline to register is Monday, April 1st.
If you have any questions, please contact us here.
Come and have fun with the MoveUP team!
Christy Slusarenko
Gunter Seifert
MoveUP Human Rights and Multicultural Committee Co-chairs
---
File Number: 19-MOVEUP-CMIT-HR&M-Paddle with the MoveUP Team at the 2019 Dragon Boat Festival-March-22
Union Label: jb:usw2009
---