Committee
MoveUP Welcomes you to join in the Victoria Pride Parade
---
July 5, 2023
To: All MoveUP members on Vancouver Island
---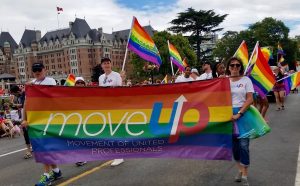 MoveUP stands in solidarity and pride with the 2SLGBTQIA+ community. Victoria Pride parade is back! MoveUP, along with the Victoria Labour Council (VLC) will be participating in the parade on July 9, 2023.
The Victoria Pride parade provides an opportunity to show this union's continued support of the 2SLGBTQIA+ community, their friends, and allies in celebration of their unique spirit and culture.
All MoveUP members, family, friends, and allies are welcomed to join  Human Rights and Multiculturalism Committee (HR&MC) member Shona Dion to walk in the Victoria Pride parade.
Date: Sunday, July 9, 2023
Parade Start Time: 11:00 a.m.
If you would like to walk in the parade with other affiliated unions and the Victoria Labour Council – please meet the rest of Group C marshaling on Herald St between Douglas and Government at spot # 89 between 9 and 9:30 a.m.
Please see map:
Victoria Pride acknowledges that VPS Festivities takes place on the traditional lands of the Lekwungen and WSÁNEĆ peoples.
We hope to see you on July 9, 2023!
In Solidarity,
Christy Slusarenko, Vice President
Anderson Charles, Executive Board Member
Co-Chairs of MoveUP's Human Rights and Multicultural Committee
---
File Number: 23-MOVEUP-CMIT-BLTN-Human Rights and Multicultural committee Event - MoveUP Welcomes you to join in the Victoria Pride Parade - July 5
Union Label: kp:USW2009
---