Bulletin
MoveUP stands in Solidarity with PSAC Workers
---
April 20, 2023
To: MoveUP Members
---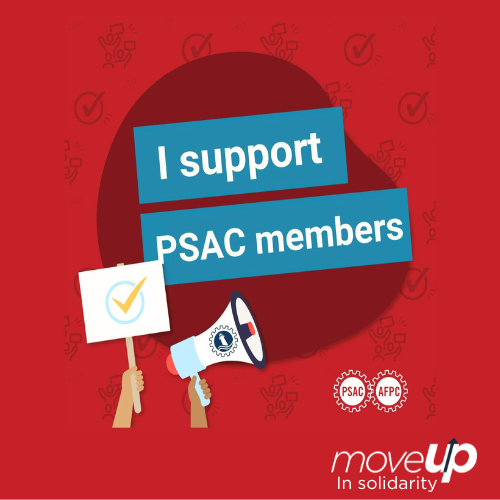 We stand in Solidarity with the PSAC (Public Service Alliance of Canada) who represents 155,000 federal public servants who have gone on strike for better working conditions. The two-year fight of these workers for fair wages and dignity – is a fight for every worker across this country.
During the pandemic these workers were making sure that Canadians had the support they need. PSAC members rolled up their sleeves and had our backs, and now it is time to that we have theirs. PSAC is fighting for fair wages, good secure jobs, more inclusive workplaces and a better work-life balance.
For those of you that have had to go on strike to fight for better and fair working conditions, you know that workers don't go on strike unless they have to. We encourage every member to show your support.
Here are two things that you can do to help:
Visit a picket line near you and let them know you support them. You can find the closest picket line to you at workerscantwait.ca – by simply putting in your postal code.
In Solidarity,
Lori Mayhew, President
Graeme Hutchison, Secretary-Treasurer
Rysa Kronebusch, Vice-President Utilities
Christy Slusarenko, Vice-President, Combined Units
Annette Toth, Vice-President ICBC
---
File Number: 23-MOVEUP-COMM-BLTN- Solidarity with PSAC Apr 20
Union Label: mm:usw2009
---