Bulletin
MoveUP – 2023 Job Steward Seminar Registration
---
January 5, 2023
To: All MoveUP Job Stewards, Executive Councillors and Executive Board Members
---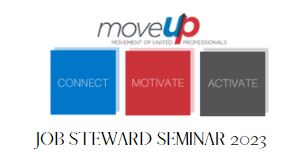 Registration is now open for the 2023 Job Steward Seminar at Harrison Hot Springs Resort on March 2 – 5, 2023.
The seminar is open to stewards, councilors and board members who have completed both Job Steward Level 1 & 2 training or are currently registered to complete Levels 1 & 2 in January and or February.
As we are expecting a higher volume of registrations this seminar, please be aware that spaces are limited and will not be issued on a first-come-first-serve basis. Your education committee chairs will be responsible for selecting qualified stewards based on the answers you provide in the registration survey.
We will be looking at members who have shown dedication to the organization and labour movement as a whole, past MoveUP or other labour education, and how you will use the training and skills gained this seminar to connect, motivate, and activate in your workplaces.
To register please fill out the registration survey from the link below, no later than 4:30 p.m. Friday, January 20th, 2023. Please note you must be able to attend all four days of the seminar – no exceptions will be made.
MoveUP will arrange and cover the costs of single accommodation rooms, travel and leave time as per the MoveUP expense policy. If you have any questions about the expense or travel policies, please contact Secretary-Treasurer Graeme Hutchinson. For those of you that will require transportation from the lower mainland, MoveUP has arranged a charter bus for select pick-up and drop-off locations. You will be able to register for a seat once you are confirmed to attend. Those who are selected to attend will be notified by the education committee no later than Friday, January 31st, 2023.
Participants are welcome to invite their partners and children, however, MoveUP will not be providing childcare at this seminar, and each evening there will be a short mandatory session. Should you have a guest join us, you will be responsible for the cost of their meals and travel related expenses.
We are very excited for the refreshed job steward seminar and have worked hard to bring you top-notched speakers and new course materials. Click here to see the course descriptions.
Please click here for the Registration survey.
---
File Number: 22-MOVEUP-BLTN-2023-Job-Steward-Seminar-Registration-January-5
Union Label: km/usw:2009
---