Bulletin
General Election day is this Saturday (October 24)
---
October 22, 2020
To: MoveUP Members at Home
---
This Saturday, October 24 is general election day in British Columbia. This will be your last opportunity to make your voice heard and help shape the future of our province.
Polls will be open from 8 a.m. PST to 8 p.m. PST on general election day. For a list of polling stations, please visit wheretovote.elections.bc.ca.
To all our members who have already cast their ballot either at advance voting opportunities or by mail, I thank you for contributing to our democratic process. For those who have not yet done so, I hope all of you will make the time between 8 a.m. PST and 8 p.m. PST this Saturday to make sure you have your say on the direction of our province moving forward.
Our union proudly supports the BC NDP in the provincial election. We have put together a report card from our perspective looking at how the parties stack up here. You can also find a report card by the BC College of Family Physicians rating each major party's healthcare plans here.
In solidarity,
David Black
President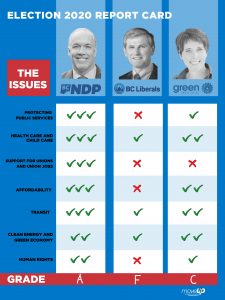 ---
File Number: 20-MOVEUP-COMM-BLTN-Election Day Oct 24
Union Label: mm:usw2009
---