Committee
Call to action: Stand up against anti-trans hate this Saturday, October 21
---
October 20, 2023
To: All MoveUP Members
---
The labour movement in BC and across Canada is continuing to mobilize ongoing community efforts to stand up against the anti-trans organizing happening in BC.
We have learned that another round of protests targeting SOGI 123 and the 2SLGBTQIA+ community are being planned for Saturday, October 21, and there is a call for counter-protesters to come and help stand up for against hate in supportive of the 2SLGBTQIA+ community.
A list of the counterprotests that are happening can be found here.
If you feel comfortable attending one of these counterprotests in support of the 2SLGBTQIA+ community, we urge you to do so.
Thank you for helping us stand up against anti-trans organizing.
Other ways to support:
Following 2SLGTBQIA+ activists and organizations to stay up to date on issues impacting the community.
Calling out friends and family members when they are homophobic, biphobic, queerphobic and transphobic.
Putting up signs in your homes and businesses to show that you support the community. Download a free No Space for Hate poster here.
In solidarity,
Anderson Charles and Christy Slusarenko
Co-chairs, Human Rights & Multicultural Committee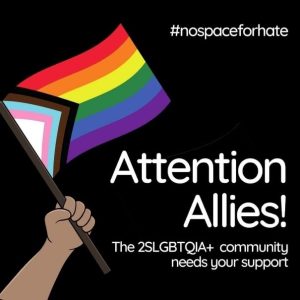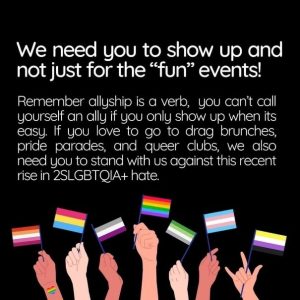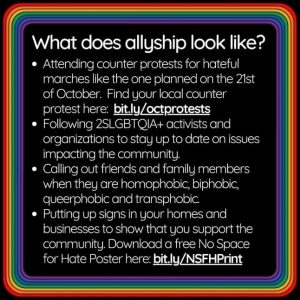 ---
File Number: 23-HR&M CMTE-BLTN- Call to action: Stand up against anti-trans hate this Saturday, October 21
Union Label: kp:USW2009
---