Bulletin
2022 Mid-Autumn Mooncake Festival
---
August 26, 2022
To: All MoveUP Executive Board members, Executive Councillors, Job Stewards and Distributors in the Lower Mainland
---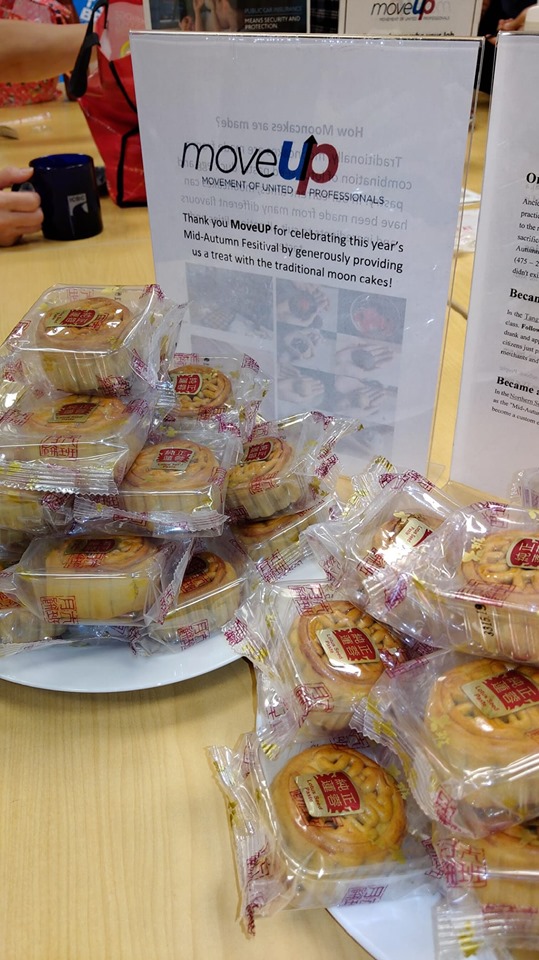 After forgoing with our annual tradition of handing out mooncakes to our members in the Lower Mainland for the past two years, our Human Rights & Multicultural Committee is pleased to announce that we will be resuming our tradition this year.
This year, we are arranging the request for mooncakes differently from the past. Job stewards, executive board members, and executive councillors are asked to fill out the following form to request mooncakes for your workplace locations. We will have a limited supply and will do our best to fill your order. Note that the mooncakes are made from lotus seed paste and contain peanut oil.
If you live in the lower mainland, you will be asked to pick up your order from September 6- 9 in one of our three pick up locations (Burnaby, North Vancouver and Surrey). Pick up details will be sent to you on or before September 2. We will ship orders to those of you who are in the Fraser Valley.
To order your mooncakes, please fill out the form here. The deadline to submit the order form is September 1.
Mooncakes are a staple of the Mid-Autumn Festival, which has been celebrated for over 3,000 years by cultures including the Chinese, Taiwanese, Japanese, and Korean and honours the harvest moon. Today, the annual celebration is continued by many Canadians with those cultural backgrounds.
Traditionally, the Chinese version of the Mid-Autumn Festival – also known as the Mooncake Festival – involves carrying brightly-lit lanterns and eating mooncakes, which are small, round pastries with a sweet filling. This year, the Mid-Autumn Festival falls on Saturday, September 10, 2022.
As you share these delicious treats with your fellow MoveUP members in your workplace, we encourage you to share some of the history behind the celebration as a way of celebrating the cultural diversity that exists in our workplaces and in our communities.
Our Human Rights & Multicultural Committee strives to share information about many different cultural observances to our members in the spirit of embracing and celebrating our diversity. While we try to share as many as we can, we acknowledge there are many others we do not have the opportunity to, or the knowledge about, to share. We welcome respectful feedback from our members and suggestions for observances that we can share in the future.
In solidarity,
Christy Slusarenko & Anderson Charles
Co-chairs, Human Rights & Multicultural Committee
---
File Number: 22-MoveUP-CMIT-HR&M-2022 Mid-Autumn Mooncake Festival-Aug-26
Union Label: jb:usw2009
---