BCFED Convention 2018 – Day 4
November 29, 2018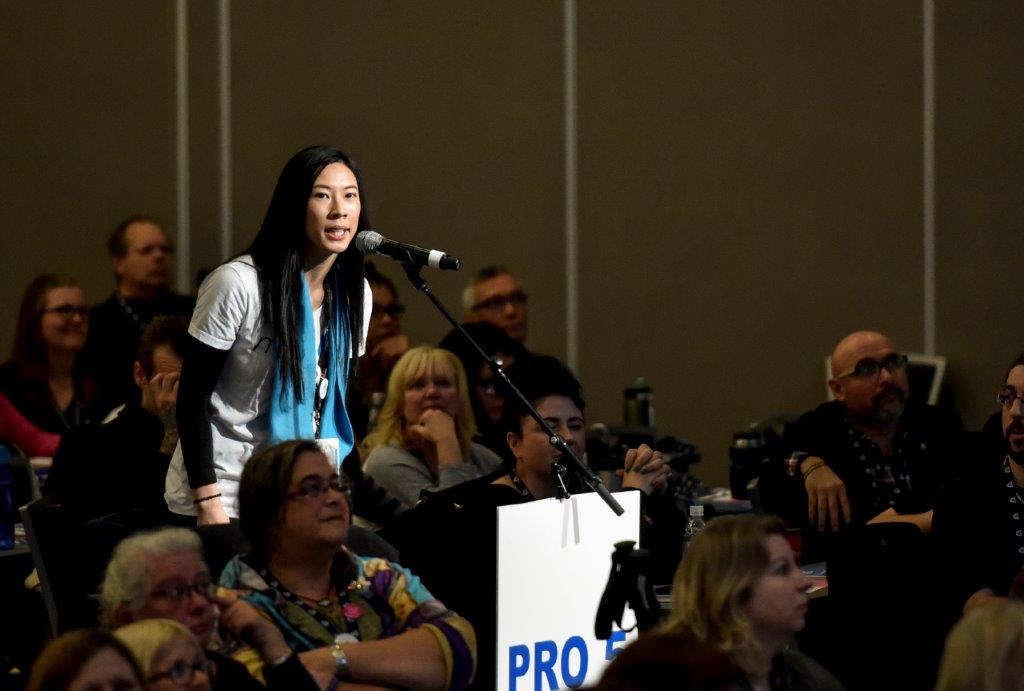 The 2018 BCFED Convention may be nearing its end but Thursday was proof that it will be full speed ahead until adjournment on Friday afternoon. You could say it put the ultimate in penultimate given just how much activity there was.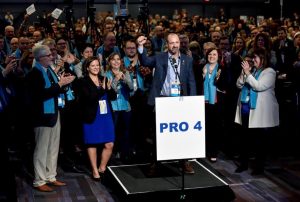 Much of the attention was centered around the election – or, more accurately, the acclamation – of Laird Cronk (IBEW) and Sussanne Skidmore (BCGEU) to the positions of President and Secretary-Treasurer, respectively, of the BC Federation of Labour.
Laird spoke in his acceptance speech about the need to lift up all workers both unionized and non-unionized, as well as the need to all come together.
"We must build bridges for success, and reconciliation must happen within our house," said Cronk.
Sussanne also echoed the words of Laird, and made sure to thank all those who supported her successful campaign.
Five Executive Council members representing Labour Councils were also all acclaimed. The successful candidates were: Darlene Gallant, Ian Gordon, Stepheon Von Sychowski, Chrissy Polajzar, and Janet Andrews.
MoveUP had a specific focus on our own Brenda Chu, who ran to become a trustee of the BCFED. Brenda, an Executive Board member with MoveUP who comes out of ICBC, has a background working as a solicitor in Hong Kong where she specialized in dealing with issues related to money laundering and fraud. Brenda received the highest number of votes in the first-round of voting for the four-year term and subsequently all other candidates withdrew from consideration leading her to be named to the position.
Acclaimed for the two-year term were Rory Smith (BCGEU) and Frank Lee (CUPE). Acclaimed for the alternate position was Jeane Andrews (IATSE). All three were part of the nomination for the four-year term before withdrawing after receiving fewer votes than Brenda.
Between the excitement of the elections and an address from Diane Wood of the BC Federation of Retired Union Members (BC FORUM) who extolled the advantages of joining their group benefit plan upon retiring, delegates were hard at work debating resolutions.
An Emergency Resolution on Bill C-89 to protest the unconstitutional legislation and assist in efforts to regain the right to free collective bargaining and the right to strike was carried, along with Resolution 21 Amended (support for BC FORUM) and Resolution 57A (forest legislation).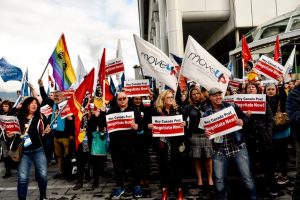 The biggest highlight of the morning, however, came right before the delegates broke for lunch as the BCFED hosted a rally in support of the Canadian Union of Postal Workers (CUPW) in their ongoing struggle to fight against an unconstitutional back-to-work legislation handed down by the Canadian federal government that not only affects CUPW members' fundamental right to strike but their ability to now negotiate a fair and free collective agreement with Canada Post.
In case you missed it, MoveUP's national union – COPE-SEPB – has committed to loan up to $100,000 to CUPW to support their fight.
The afternoon kicked off with a very special guest speaker in B.C. Minister of Labour, Harry Bains, who noted he was the first Minister of Labour in 16 years. Minister Bains thanked the labour movement for all their accomplishments over the years in improving workers' rights, and noted as well he was pleased to see everybody take part in the rally earlier in the day in support of the CUPW members.
He also touched on a number of issues and the work that the BC NDP government have done to make lives better for families and workers in our province including universal childcare, access to health care, affordable rental homes for seniors, those with disabilities and mental health challenges, Indigenous rights, Human Rights, eliminating MSP premiums, returning ICBC back to financial stability, providing safe spaces for women and children fleeing violence, resources addressing the opioid crisis, health and safety for workers, as well as introducing B.C.'s first poverty reduction strategy and the raising of the minimum wage.
"When we work together, we are benefiting together," said Bains.
Following Minister Bains' address, a video tribute was played for outgoing BCFED President Irene Lanzinger with many delegates telling their stories and giving their personal thanks. Irene also took the time to address the crowd thanking those who spoke, revealing the history behind her nickname 'Hurricane Irene' (it came from a meeting with Principals and Vice-Principals in Vancouver), thanking the staff at the BCFED, and talking about some of the things she was most proud of to be a part of in her time as president.
Award-winning author Ivan Coyote was the final featured speaker of the day, who told an engaging story of their experience while teaching a lesson on the importance of rights for trans and non-binary individuals and how the lack of gender-neutral facilities at a workplace was essentially a message that these individuals were not worthy of being at that workplace.
"We all have gender-neutral bathrooms at home," said Coyote. "What do we call them? Bathrooms."
They made the point about how these rights and can be lifesavers for trans individuals, but also spoke about how there needs to be new stories about joy, triumph, love, inclusion, family and redemption, about the trans community that need to be told.
After the speech, MoveUP Exeutive Board member Gunter Seifert, flanked by our delegates, spoke about our "Stop the Blood Ban" campaign and urged the delegates to help our postcard campaign which will urge Prime Minister Justin Trudeau to fulfill his campaign promise of ending the ban on gay and bisexual men, and transgender women that prevents them from donating blood unless they have been celibate for a year.
The Young Workers Committee, led by chair Caitlin Davidson-King from MoveUP, delivered their report and their recommendations which were carried.
The day concluded with the Oath of Office for all executive officers and executive council.
All reports as well as list of resolutions can be found on the BCFED's Convention website here.
Click here for the Day 3 report from the 2018 BCFED Convention.
Click here for the Day 2 report from the 2018 BCFED Convention.
Click here for the Day 1 report from the 2018 BCFED Convention.
Day 4 of the 2018 BCFED Convention in the eyes of MoveUP Executive Board member Bruce Sarvis: