MoveUP members: Support progressive candidates in the B.C. general elections
October 2, 2018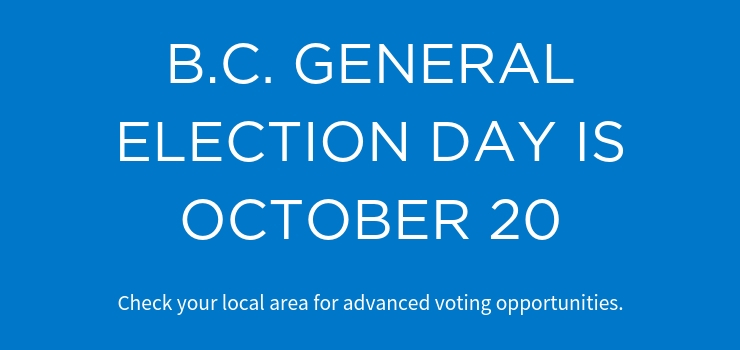 The B.C. General Local Elections take place on October 20, with advanced voting opportunities available starting at the beginning of the month.
Please go out and vote. Your vote is important to electing local leaders who will protect your community.
Participating in the voting process is critical in all democratic societies but especially now given today's political climate. We cannot afford to stay silent. It is imperative that we do our due diligence, elect those who we can trust to represent our best collective interests, and continue to hold elected officials accountable even after election day.
As a democratic union, and having been through the voting process just recently within our organization, we strongly encourage you to make your voice heard this election day in your local area.
MoveUP is affiliated with the Canadian Labour Congress, which has been working with local labour councils across the province. Together, they have compiled lists of endorsed candidates running in your areas. These endorsed candidates have demonstrated progressive values, have shown a commitment to improving conditions for families and working people, and are dedicated to fostering an environment that is safe and inclusive and one that you, your family and your friends can be proud to call home.
To see the full list of endorsed candidates in your area, please click on the following links corresponding to the labour council in your area.
Campbell River, Courtenay and District Labour Council (includes Campbell River, Comox, Courtenay, and Cumberland)
East Kootenay District Labour Council (includes Cranbrook and Fernie)
Fraser Valley Labour Council (includes Abbotsford, Chilliwack, Harrison Hot Springs [Village], and Mission)
Kamloops and District Labour Council
Nanaimo, Duncan and District Labour Council (includes Duncan, Nanaimo, North Cowichan and Parksville)
New Westminster and District Labour Council (includes Port Coquitlam, Port Moody, Surrey, White Rock, Burnaby, Coquitlam, Delta, Langley City, Langley Township, Maple Ridge, New Westminster, and Pitt Meadows)
North Central Labour Council (includes Prince George)
North Okanagan Labour Council (includes Kelowna and Vernon)
Sunshine Coast Labour Council (includes Sechelt [District])
Vancouver and District Labour Council (includes North Vancouver and Vancouver)
Victoria Labour Council (includes Central Saanich, Oak Bay, Saanich, Sooke, Greater Victoria, Victoria)
A few reminders in advance of general election day:
Voting day takes place on October 20. Check your local city/municipality's website for information on voting locations. You can visit CivicInfo BC to find your municipality's contact information.
Your local city/municipality will also provide information on voter eligibility and ID requirements. We encourage you to contact them in advance to make sure you are on the voter's list and that you bring the requisite pieces of ID when you go to vote (generally two pieces of identification).
Some municipalities will offer mail ballots for those with physical disability, illness or injury that prevents them from voting at an authorized voting opportunity or if they expect to be absent on general voting day and at all advance voting opportunities.
Thank you for participating in the democratic process and helping make your community better.