MoveUP Meets With Victoria Area MLAs to Discuss BC Transit
April 4, 2012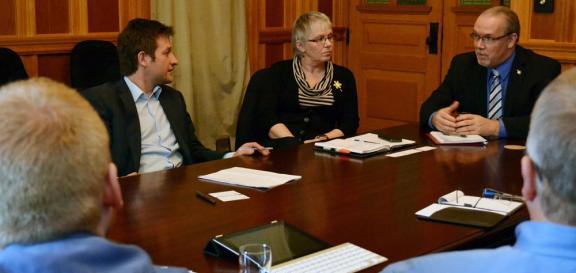 On Wednesday, April 4th, a delegation from MoveUP met with Victoria area Opposition MLAs John Horgan, Maurine Karagianis and Rob Fleming to discuss the current state of transit in the Capital Region District (CRD) and possible plans for the future.
President David Black was joined by MoveUP Executive Board members Stephen Von Sychowski and Mike Ferguson, Executive Councillor Sal Ruffolo, and Union Representative Kevin Payne.
The union delegation raised several different issues of interest to our BC Transit members (and our members from other units who live in the Victoria area) including the possible uses of rapid transit and rapid buses in the CRD, the ongoing discussions around amalgamation of transit services in the region and what governance models such a body could emulate, road infrastructure and the perennial challenge of revenue sources.
MoveUP has already met with some CRD mayors and councillors on these issues and has meetings scheduled with others.
As transit needs in the Victoria area grow with the population, MoveUP is pleased to have begun a conversation with Opposition MLAs about how our members' interests can be protected and the quality of transit in the region can be improved.
Below: Sal Ruffolo, Rob Fleming, Mike Ferguson, Maurine Karagianis, David Black, Stephen Von Sychowski