MoveUP at BC Fed Prince George Conference
June 3, 2011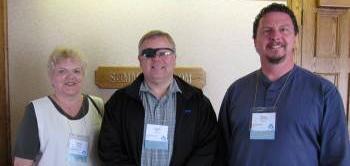 MoveUP representatives are in Prince George from Friday, June 3 to Saturday, June 4 for the BC Federation of Labour regional conference "Building a Brighter Future for BC's Regions".
Attending the conference and pictured above are COPE Executive Councillors Carol Edwards (BC GEU ) and Doug MacDonald (ICBC), as well as President David Black.
The conference, which is being held at the Coastal Inn of the North, consists of plenary panel presentations, facilitated small group discussions, and a skills building component. It's an opportunity to build cross-sector awareness and focus on BC's regions and smaller communities, especially in the North. "Building a Brighter Future for BC's Regions" will examine issues of importance to the labour movement, such as expanding green jobs, strengthening public services, and making sure communities benefit from natural resource extraction.
The goal of the conference is to look forward and develop recommendations for action in the labour movement to counter some of the ways the current BC government's policies have harmed regional environments and local economies. MoveUP representatives are looking forward to bringing back what they've learned and working more on these important issues.