First Day for a New Council
May 26, 2011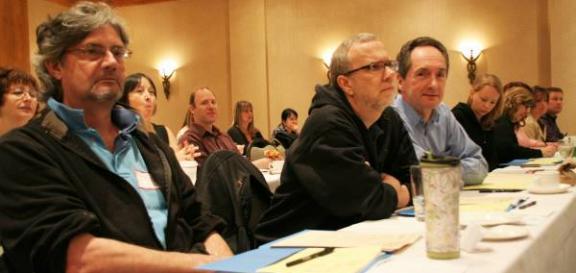 The first Council meeting of the brand new MoveUP Council began with a thorough explanation of the roles and responsibilities from former president, Andy Ross. With an eye to refreshing the knowledge of seasoned Councilors and orienting the newly elected, Andy gave an overview of MoveUP's structure, moving from the national structure of COPE/SEPB, the local's structure, affiliation to global union federations, and central labour bodies.
After Andy's presentation, Communications Officer Sage Aaron spoke briefly to the council about the next steps for the MoveUP history book. Calling it "Finding Our Power 2.0", Sage outlined the steps the union is taking to publish the history book for e-readers, and plans for an interactive multi-media timeline online using material from the book.
The morning finished off with an in-depth tutorial on financial literacy from Catherine McCreary, a well respected labour lawyer and former VanCity Credit Union Board member. Catherine went over the local's finances and gave Council members tips on how to interpret and analyze financial documents. Over and over, Catherine reminded the council members they have the responsibility on behalf of the membership to oversee the finances. Ask questions, Catherine said, "There's no such thing as a stupid question." Noting that a budget isn't necessarily a strategy, Catherine recommended Council adopt a forward looking, strategic attitude towards the union's finances.