Fed Delegates Unite for a Better BC
November 26, 2012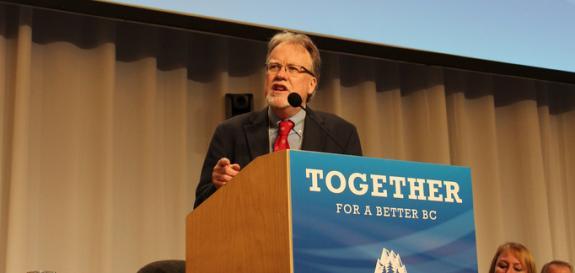 Over 1,200 delegates attended the first day of the largest BC Federation of Labour convention ever. Fed President Jim Sinclair kicked off the morning with a rousing speech that covered a range of topics from public sector bargaining to migrant worker exploitation to health and safety issues in the workplace.
Overall he emphasized that we as the labour movement can be more effective when we work together and are more inclusive, including working in solidarity with unions internationally.
"Around the world workers are being attacked and they are fighting back," Sinclair said, "We are stronger when we stand and fight together."
Sinclair acknowledged key challenges we face but emphasized some of the successes the BC Federation of Labour has had, such as their work doing high school education. Sinclair noted the BC Federation of Labour has reached 92,000 high school students in 80 districts to teach them about their rights at work since the program began.
He also praised the work of Fed committees and affiliates in the successful fights for a minimum wage increase and against the HST:
"Last year we beat the HST and now we're going to beat the government that brought it in," Sinclair said.
To conclude, Jim Sinclair again emphasized labour movement unity: "We are stronger as a province, better as a province, more successful as a province when we embrace equality and justice."
Former Parliamentary page, 28-year-old Brigette DePape, was one of the afternoon's guest speakers. She talked about what it was like to decide to hold up the "Stop Harper" sign during the Throne Speech and how she was scared of being arrested but decided to go ahead:
"Because of the strength of those people: of workers, of women, of indigenous peoples, of children, of people of colour … when I thought of that strength, it gave me the strength to act, to stand up for my brothers and sisters."
She said that she has decided to move to BC for the next six months because there is so much progressive power in British Columbia: "First, let's take BC. Then, let's take the country."
MoveUP's own Stephen Von Sychowski led the Young Workers Committee report after DePape's speech.
Von Sychowski started out noting the situation young workers are in in BC today: "They're the last to be hired and first to be laid off. They face all kinds of challenges. They work primarily in nonunion sectors of the economy."
The Committee has taken several actions in support of young, vulnerable workers, including giving out "Bad Boss" awards to exploitative non-union employees, holding a sit-in at a Mac's convenience store to protest their support for watering down Grant's Law, and running high-school educational programs on workers' rights.
Convention delegates passed the only young worker-related resolution of the day: a motion of support for First Call BC's "minimum age" campaign, which includes research on the experiences of youth aged 12-18 in the workforce in BC.
Next, Canadian Federation of Students BC Chairperson Katie Marocchi spoke about the importance of continuing work between labour and students for a more equal society: "Our two movements have often worked together for causes of social betterment in this province."
Near the end of the day the Women's Rights Committee presented their report, which highlighted their work organizing and educating on a range of issues, including pay equity, the importance of a living wage, childcare, violence against women, missing and murdered Aboriginal women, and reproductive rights.
The committee's recommendations included support for the Coalition for Child Care Advocates of BC's $10 a day childcare system, protecting reproductive rights, increased services for women impacted by violence in BC, and a call for a national inquiry into the disappearance and murder of over 600 Aboriginal women in Canada.
Many women got up to the microphone to talk about their own experience with these issues. Several delegates expressed frustration that we are still fighting the same fights for women's equality after so many years. A few delegates told their stories about difficulties accessing childcare and spoke about how important affordable, accessible, public childcare is to end poverty and promote women's participation in the economy. One Aboriginal sister spoke about how difficult it is to say goodbye to relatives who are murdered, especially when you don't feel it's being taken seriously by law enforcement.
MoveUP Secretary-Treasurer Lori Mayhew rose to speak in favour of a resolution to restore funding for women's programs and services that have been cut by the Liberals:
"Restoring funding for these services for women that were cut in 2001 and 2002 – over ten years ago – needs to be a priority for an NDP government and we need to make sure that that does happen in May," she said.
Other resolutions passed which called on the Federation to support reestablishing the Ministry of Women's Equality, increased programs to support preventing violence against women and supporting the women affected, and a call for justice for missing and murdered Aboriginal women.
MoveUP member Korleen Carreras spoke to the motion on programs around violence against women, saying, "Cuts to funding in this area are shameful and force women into unsafe situation."
She called for more funding for spaces for transition and second-stage housing, adding, "We need to do better as a province."