BCAA Union Asks Car Sharers to Say No to Evo
July 7, 2015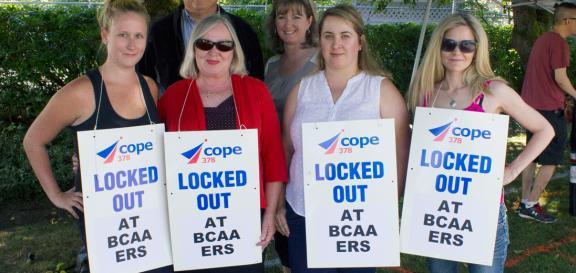 BCAA UNION ASKS CAR SHARERS TO SAY NO TO EVO
MoveUP Says BCAA Treating Roadside Assistance Employees Unfairly
BURNABY – BCAA is hoping its new car sharing program, Evo, will take off with Vancouver residents. However, the Canadian Office and Professional Employees Union, Local 378 (MoveUP) is encouraging the public to use other car sharing options, due to an ongoing lockout of its members by BCAA.
"Our members are making the same wage as people doing the same work for Evo, but working five hours longer every week. Rather than treat them fairly, BCAA locked them out, even though it means long waits for their customers needing roadside assistance," said MoveUP President David Black.
Metro Vancouver residents are able to choose from several other car sharing services, including Modo, Zipcar, car2go and Student Car Share.
"Our members want to be back at work helping people who need roadside assistance. I hope Evo customers ask themselves if they can really trust a company that's willing to make its customers wait longer when they need help, just so they can keep treating employees unfairly," Black added.
MoveUP represents approximately 70 members in the contact centre at BCAA Emergency Roadside Services. They are responsible for receiving roadside assistance calls and dispatching repair vehicles to assist BCAA members. The contract between MoveUP and BCAA-ERS expired in September 2014. BCAA locked out their employees on June 5, 2015.
-30-
Contact: Jarrah Hodge
604-790-0487