BC Nurses' Union used scab labour
October 19, 2016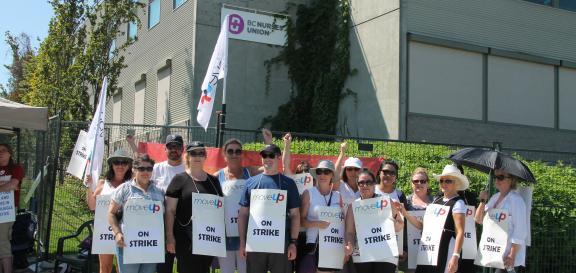 BURNABY – The BC Nurses' Union (BCNU) has admitted to being guilty of using a replacement worker —commonly known as a "scab"—in violation of the Labour Relations Code.
"The tactics the BCNU leadership has used against their own employees since forcing them to strike have been abysmal," said David Black, President of the union MoveUP which represents the striking workers. "So it comes as no shock that the Labour Relations Board has said they've violated the Labour Relations Code by using scab labour."
The BCNU admitted that excluded executive assistant Madeline Harden was performing struck MoveUP bargaining unit work beginning on the first day of the strike. BCNU employees have been on strike since July 22, when BCNU leadership locked them out and forced a strike. As Ms. Harden was hired after MoveUP began bargaining, she is prohibited by Code from performing struck work.
On Wednesday, in addition to issuing a consent order setting out that the BCNU violated the Labour Relations Code by employing an illegal replacement worker, the Labour Relations Board (LRB) has ordered that the BCNU cease and desist from assigning struck work to Ms. Harden. A copy of the order can be found here.
Earlier in contract negotiations, the BCNU used tactics against its own employees that it criticized as "aggressive" and "surprising" when used against nurses; read more here. More recently, the BCNU misrepresented proceedings at the LRB regarding an illegal picketing application in an attempt to intimidate MoveUP members; read more here.
"These types of heavy-handed, anti-union tactics are unacceptable coming from any employer and are especially outrageous when the employer is a union itself," said Black.
Black said the actions and words of the BCNU expose the double-standards of its leadership. "The message the BCNU leadership is sending to health authorities and other health employers should be concerning to nurses: demanding concessions, threatening to force a final offer vote, locking out workers, and misrepresenting proceedings at the LRB are all acceptable plays in this employer's playbook," said Black. "We hope for the sake of nurses that health employers are not taking note of this anti-union behaviour of the BCNU."
The BCNU continues to insist on clawing back sick, medical appointment and family responsibility leave from its employees. MoveUP does not accept these concessions and remains committed to securing a fair and reasonable collective agreement for its members.