BC Fed 2010: MoveUP At the Mics and On Their Feet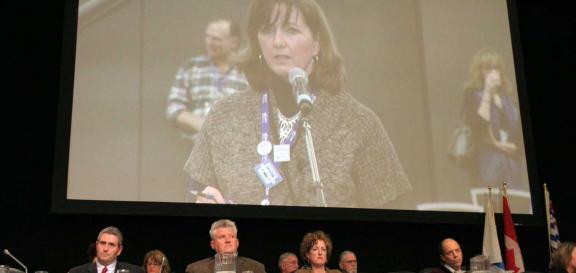 MoveUP delegates have been lining up at the microphones, engaged in debates, and on their feet in day two of the 2010 BC Federation of Labour Convention.
The day began with the annual United Way Counsellors' breakfast, celebrating and thanking the many workplace councillors who work with the United Way, their unions, and their employers for early intervention with their peers and co-workers. MoveUP is an active and engaged partner with the United Way, and many members serve as Counsellors doing valuable and important volunteer work in their workplaces.
As Convention proceedings began and BC NDP Leader Carole James entered the room toan elated reception, she was flanked by several MoveUP young workers who walked with Carole through the crowd.
Following Carole's barnstorming speech, delegates entered a debate and discussion on the
Executive Council Report and the recommendations contained within. Several MoveUP members were lined up at the microphones to make remarks and recommendations.
With many more key items of business to come this afternoon and throughout the week, COPE delegates will continue to make their presence known representing members on the floor.