2021 Vice-President election: Utilities
The vice-president from the Utilities groups (BC Hydro and Fortis) will be elected by the constituency delegates at the MoveUP Convention on Saturday, October 30, 2021.
The bargaining units include: Accenture, AECON, BC Hydro & Power Authority, BC Infrastructure Benefits, Columbia Hydro Constructors Ltd., GE Renewable Energy Canada Inc., Powertech Labs Inc., and SNC-Lavalin Constructors (Pacific) Inc.
Electronic balloting starts at 7:30 a.m. and ends at 9 a.m. on Saturday, October 30, 2021.
Candidates for Vice-President
Rysa Kronebusch (BC Hydro)
As the current Vice President representing the Utility group, Rysa is a passionate activist ensuring that everyone has space at the table and their voice heard!  Rysa has taken on some hard topics, like Domestic Violence the advocacy started from a resolution Rysa submitted to the BC Fed's convention for action, this fight continues until we get the 10 days paid leave.  Working with the OH&S cmte to make positive change for all workers, advocating for sex workers, who deserves rights of safety under the law, as do we all, no matter what Rysa will fight for those who have no voice! Rysa also is very active politically from being the President of the Maple Ridge/Pitt Meadows constituency association, the Secretary/ Treasurer for the BC NDP WGRC, to being on the Poverty Reduction Coalition steering committee.  No matter whom you are, Rysa will be your voice and fight for you.
Anderson Charles (BC Hydro)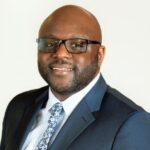 Anderson Charles is well recognized as a fearless advocate for working people everywhere. His passion for fairness, unity and solidarity has resulted in two terms on our Executive Board.
Anderson has observed firsthand the corrosive impact that can occur, when members are divided, and their voices are ignored. He is deeply committed to rebuilding unity of cause and purpose within our union. He knows that together, we are stronger, and it is his goal to reunite us around our common goals as working people, and proud MoveUP members.
Anderson proudly serves on multiple committees within our Local and union, including our national Canada Equity Council, and the Workers of Colour Caucus with the BC Federation of Labour.
With his life-long commitment to progressive values and drive to create a member driven union that reflects the diversity of our membership, Anderson seeks your support as Vice President of the Utilities Group.
Note: Biographies are supplied directly be candidates and are not edited in any way. The word limit is 150. Biographies that exceed 150 words have been cut off at the 150-word mark.
Voting instructions for Convention delegates
The election will be done using the MoveUP Member Portal. Please be sure to bring your MoveUP member ID with you. If you do not have your membership ID reach out to membership@moveuptogether.ca prior to Convention.
You can vote on line using your own electronic device otherwise a laptop will be made available at the MoveUP convention registration.
The election results will be announced shortly after balloting closes.