Hundreds to protest Westminster Savings Credit Union in support of striking workers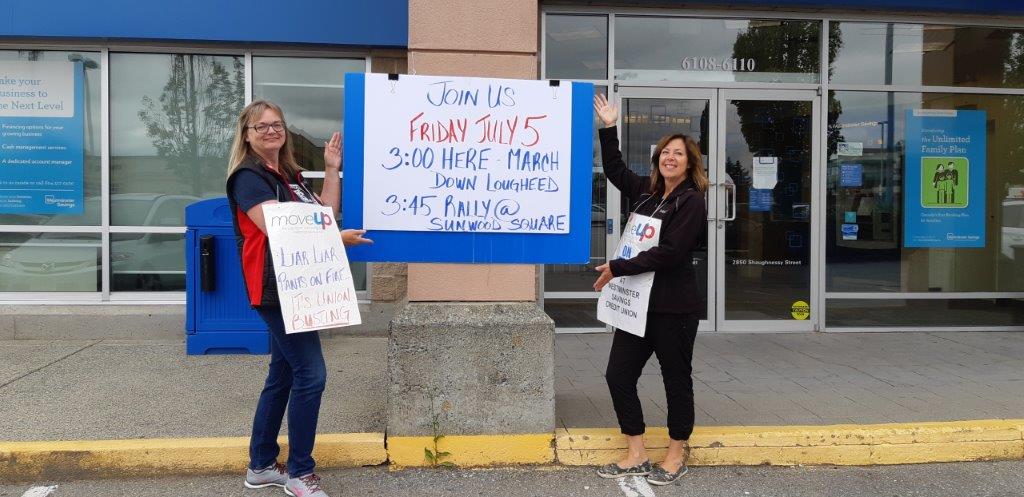 Over 200 people will march this Friday, July 5 from Westminster Savings Credit Union's Shaughnessy Station branch in Port Coquitlam to the Sunwood Square branch in Coquitlam to protest the credit union's plans to close down the Shaughnessy Station branch.
"This is about standing up for our community and all the people who would be affected by the only branch in Port Coquitlam closing," said Donna, one of the members currently on strike. "Having worked in that branch for several years, I know the Port Coquitlam community is a community with small business owners, retired long-term members, and busy working families who visit our branch not just for banking but to connect and discuss financial goals and life events."
Members of the community are welcome and encouraged to join the march which will begin at 3 p.m. from the Shaughnessy Station branch. A rally will be held at the Sunwood Square branch at 3:45 p.m, and striking workers will be joined by attendees of the Summer Institute for Union Women.
Westminster Savings informed its members in June that they are planning to shut down the Shaughnessy Station branch this fall, claiming the decision is not related to the branch's unionized status. The Shaughnessy Station branch is the only unionized branch of Westminster Savings.
Workers at the Shaughnessy Station branch, represented by MoveUP, have been on the picket line since January 22 fighting for retirement security and against their employer's attempts to deny access to the existing defined benefit pension plan for employees hired on or after July 1, 2018. New employees at the non-unionized branches have already been affected by the change.
Date: Friday, July 5, 2019
Time: 3 p.m. march; 3:45 p.m. rally
Start location: Westminster Savings Shaughnessy Station branch (2850 Shaughnessy St., Unit 6108, Port Coquitlam, B.C.)
End location: Westminster Savings Sunwood Square branch (3025 Lougheed Highway, Unit 290, Coquitlam, B.C.)
Please note that there may be some potential disruptions to traffic along Lougheed Highway from Shaughnessy St. to Westwood St. due to the size of the march. The union has worked with the local RCMP in order to minimize the impact on motorists.