Fund Transit NOW!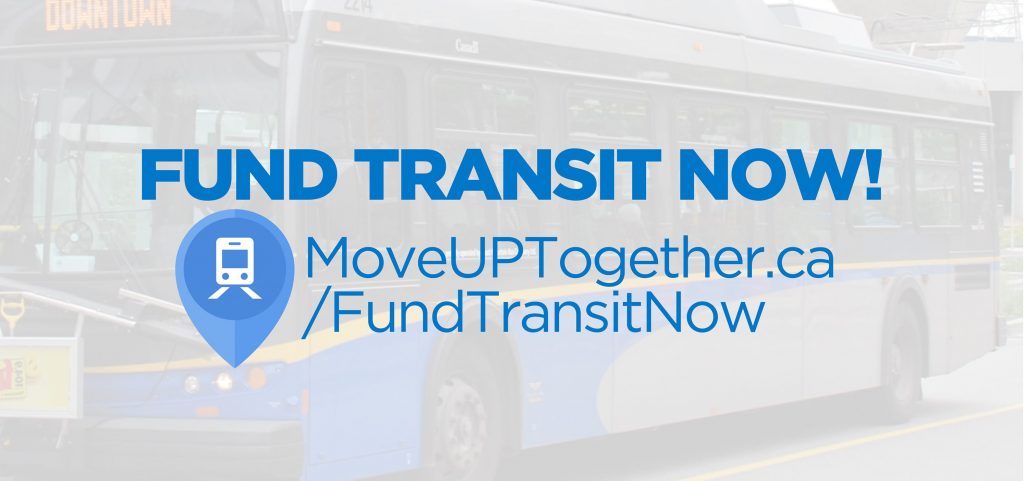 Public transit is not just about buses and trains. Public transit connects communities. Public transit provides opportunities. Public transit drives our economy and our society. Public transit makes us stronger and lifts up those around us who need it the most.
But public transit is only as strong as we make it. And we need to make it strong. And those we elected need to hear our call to provide emergency funding for public transit.
Public transit is one of our greatest assets when society is at its strongest. It is an even more critical asset when society is enduring challenges.
As our society comes together to combat the COVID-19 crisis, we need our elected officials to recognize a key tool in helping us defeat the virus is a strong, stable public transit system.
We must ensure our healthcare and other depended upon front-line workers, and the most vulnerable in our society, can get to where they need safely, affordably, and conveniently. That can only happen if we properly fund public transit.
Our Goals
Ensure that public transit – specifically at Coast Mountain Bus Company and TransLink – are maximizing their service levels as much as possible while still following health and safety protocols;
Demand that our provincial government and federal government step up with emergency funding for public transit so it can continue to provide a critical, essential service during this crisis and beyond; and
Mobilize our members to push for these urgent needs so that they can go back to work to do their part to support and provide reliable transportation services for our healthcare and other depended-upon front-line workers.
Share your story with us
Tell us how cuts to public transit have impacted you, your family, or someone you know. We will share these stories on our social media channels. Submissions may be edited for clarity and brevity.
MoveUP Announcements
Rescinding public transit layoffs will help in COVID-19 recovery
Public transit cuts hurt people in fight against COVID-19
How you can help
We need you to make your voice heard, and to share your stories about why public transit matters to you and those around you. More importantly, we need you to use your influence to contact to your local MP and your local MLA.
A personal call, email or letter goes a long way influencing their opinion, even more than petitions or form letters. And the more of us that engage, the more they will recognize that this issue is one that they cannot ignore and must be top priority.
Look up your BC MLA by postal code here.
Look up your MP by postal code here.
Key Points
The following is a list of key points that you can use to form the basis of your conversation or letter.
Front-line workers, including healthcare workers, are disproportionately affected by transit cuts and we need them now more than ever.
Less capacity puts more people at risk with overcrowding on existing buses and at bus stops. It also leaves people more vulnerable with fewer services at late hours.
Public transit is critical for getting food and supplies to people.
Public transportation is the most affordable option for people, many of whom have had their personal financial situation negatively affected by COVID-19.
If the government can fund private companies like airlines, automakers, and car dealers, then they can certainly fund public transit which is something most rely on, not just a select few.
Workers who have been laid off will apply for federal and provincial financial aid, which means they will be receiving money but will not be on the job. It makes more sense to fund public transit so those workers can keep working while providing a critical service.
When we emerge from the COVID-19 crisis, public transit will need to be ready to provide safe, reliable, affordable transportation. It will be a critical piece of the puzzle when our economy restarts.
Tips when contacting an elected official
Introduce yourself and indicate you are a member of their riding. Receiving a letter from their constituent is much more likely to attract their attention.
Choose one point to make and focus on that. The message can get lost if you try to fit too many things in.
Make sure you include the ask, which is to call on the provincial and/or federal government to provide emergency funding to support B.C.'s public transit systems (Coast Mountain Bus Company and TransLink, specifically).
Be courteous, and thank them. Avoid YELLING and using profane or unprofessional language.
If you are writing a letter, considering cc'ing also to the following:

Chair of the TransLink Mayors' Council Jonathan Cote – jcote@newwestcity.ca
B.C. Premier John Horgan – premier@gov.bc.ca
B.C. Minister of Transportation & Infrastructure Claire Trevena – Minister.Transportation@gov.bc.ca
B.C. Minister of Finance Carole James – FIN.Minister@gov.bc.ca
Prime Minister Justin Trudeau – pm@pm.gc.ca
Canada Minister of Transport Marc Garneau – marc.garneau@parl.gc.ca
Canada Minister of Finance Bill Morneau – Bill.Morneau@canada.ca
Others ways to help
Support other campaigns that are underway to influence our provincial and federal government to provide adequate emergency funding for public transit.
Abundant Transit BC Petition
ATU Canada Petition
Leadnow Petition
Vancouver & District Labour Council Petition
Save Transit in BC Form Letter
Resources
Abundant Transit BC
Canadian Urban Transit Association
Federation of Canadian Municipalities
MoveUP statement on layoffs at Coast Mountain Bus Company and TransLink
Save Transit in BC
Vancouver & District Labour Council
Your stories
"Earlier this Spring, I was in the process of moving out of province and leaving healthcare; however, once the pandemic started, I decided to stay to help out. I moved in with family, and I now commute to work using a community shuttle to get to a sky train. With the reduced service, I now have a longer commute and buses are fuller. Still, more importantly, after working my shift in a high-risk environment, and taking transit twice a day, I go home and put my family at risk. We must keep transit levels the same as pre-COVID-19 and learn from New York City that subways were a vector, and reducing service is not an option." – Jeff Walsh, Registered Social Worker, Vancouver Coastal Health
"I depend on transit to get to my job and other destinations" – Tom, Technician
"I don't drive. My commute from Port Coquitlam to south Delta is 300km per week via two buses and two trains during evening off-peak and morning peak hours. I have seen how cuts and the need to physical distance has affected those still on transit during these times. As the province opens up at the same time where bus service will take a DEEP cut, it's going to be nigh impossible to continue to commute on public transit. Funding needs to happen now. If it can't happen soon, some of these cuts could be permanent. " – Adam, Warehouse Worker
For MoveUP members working in public transit
Join our Transit MoveUP members Facebook Group to share more resources.